How to access Google Play, Google Chrome, and more on the Idolian Mini Studio 8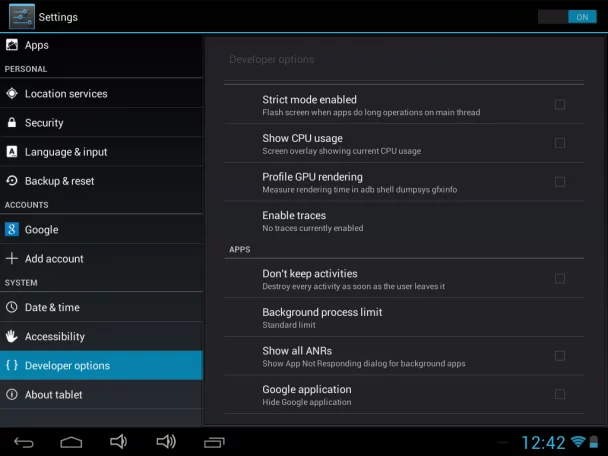 Ever since I unboxed the Idolian Mini Studio 8 tablet at the beginning of this week, I've admittedly been slightly impressed by the performance of this budget tablet. However, one thing that wasn't immediately clear was how to access the Google Play Store and other Google apps, like the Chrome web browser, Gmail, Maps, Talk, and more. The Idolian website has a few videos that clearly state Google Play is available on this Android tablet – but after searching through the app drawer, adding my Google account, and looking through the various settings, it was nowhere to be found.
I finally got the idea to glance in the developer options (Settings > Developer options), and at the bottom of the list was exactly what I was looking for: a selection named "Google application." Apparently, all I had to do was uncheck that box (I'm not sure why it was checked by default), and suddenly the Play Store appeared in my app drawer, along with Calendar, Gmail, and Maps. Great!
But unfortunately, the work didn't stop here: I opened the Play Store, only to find that Google Chrome had already been installed and required an update. It wasn't in the app drawer, so I accepted the update, thinking it would appear there once I updated; I was wrong. I restarted the tablet, thinking I did something wrong; it still didn't appear. I also noticed that a few other Google apps like People and Talk weren't showing up, either.
Eventually, I ended up downloading QuickShortCutMaker, although there are a few other apps that do the same thing if you personally prefer something else. Basically, this app allows me to search my phone or tablet and create a home screen shortcut to any and every application or activity that's installed on the device. Using this app, I was able to create home screen shortcuts for Chrome, Talk, and People.
To be honest, I'm not sure why this process has to be so convoluted – not to mention most average people aren't like me. Most will look in the app drawer, see that the Play Store and a bunch of other standard Google services are nowhere to be found, and end up feeling incredibly disappointed. This is something that should be fairly easy to fix in an OTA update in the near future, so I'm hoping Idolian will take note of this.
In the meantime, the above steps can function as your workaround.