iPad mini users fashion brilliant iPad/notebook cases from Moleskine notebooks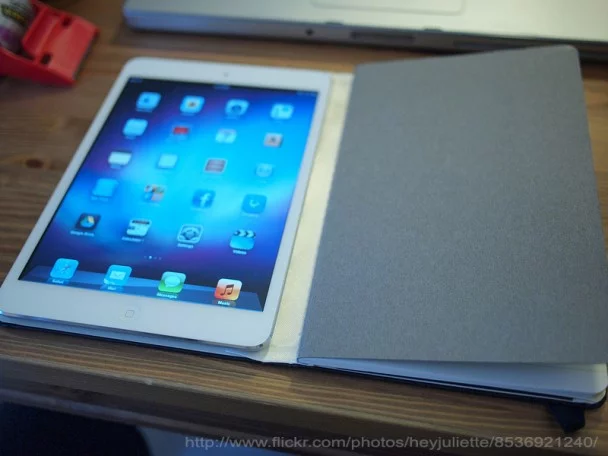 I'm a big fan of self made accessories, and know that there's no substitute for tailoring accessories for your own use. That's also the spirit behind the DIY project of MacRumors user peabody, who couldn't find a commercial case that fit her criteria:
I have been on the look out for a thin, professional looking case that is a folio type with a notepad I can use to take notes etc. Only two exist that I could find – a very thick moleskin folio cover for e-readers, and the booqpad mini. Having owned the larger ipad 2 version of the booqpad, I was not a fan of how lose the ipad was inside the case, and there were too many pockets, too many things going on with that case (and not a fan of the material it was made out of).
Inspired by this blogpost, she took a Moleskine Large notebook, removed the pages, slipped a thinner notebook into the back pocket, and attached the iPad mini with some mounting tape. The finished case then holds both the iPad mini, a paper notebook, and her Wacom Bamboo Stylus duo in a very professional looking cover. The total cost should be about $25 if you live in the US and buy from the right places (like Amazon).
While that's not a huge saving from the $40 Booqpad, I have to say that I'd take the DIY version over the Booqpad any day, as the latter looks much more cumbersome, with tons of unnecessary material, and even a much less useful notebook to boot.
Another user also posted his case in the thread, offering yet another approach to this mod. There's also the case from the original blog post, which however doesn't have an actual paper notebook.
I love projects like this, and I have to say that these people have done a great job on their cases. It goes to show that sometimes, commercial solutions aren't just more expensive, but also inferior- at least for some people.
[
Macrumors
|
John Chandler
]