LTE-enabled Chromebook Pixel will be available April 8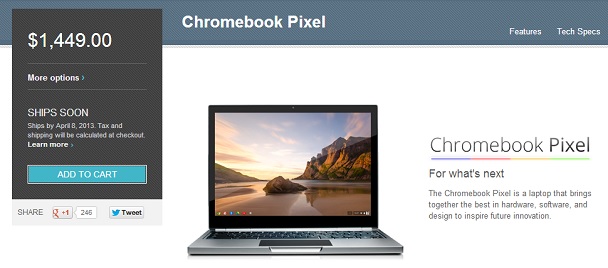 If you thought spending $1299 for a Chromebook was crazy, try $1449. That's how much the Verizon LTE-enabled Chromebook Pixel will cost, and we finally have a shipping date for Google's most high-end laptop ever: April 8.
To recap, the LTE Chromebook Pixel features a 64GB SSD, 4GB of RAM, an ultra-bright 400-nit 12.85-inch display with a very high resolution of 2560 x 1700, and 1 1.8GHz dual-core Intel Core i5 processor. Owners also get 12 free in-flight GoGo WiFi passes, 1TB of Google Drive storage for three years, and 100MB of Verizon LTE data/month.
For those who want more data, you can purchase a plan for the Chromebook Pixel from Verizon at these rates:
$9.99 – unlimited data for one day
$20.00 – 1GB for one month
$35.00 – 3GB for one month
$50.00 – 5GB for one month
With sale tax in most places, the Chromebook Pixel will be well over one and a half grand. To most people, it's not worth it. To others like me, it's an object of envy. And for those that have that kind of money to throw around, it's probably already been ordered.
[
Google
via
Phandroid
]