Seattle bar bans Google Glass, brings up privacy concerns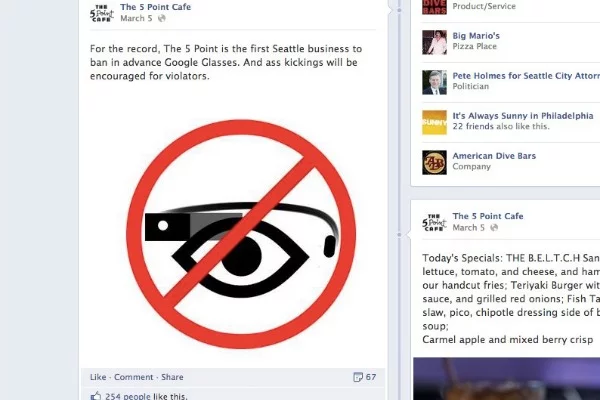 As far as I can tell, most gadget nerds are pretty excited about the idea of Google Glass. The incredibly novel product from Google promises to bring a science fiction-like heads up display to the general population, and although Google will probably collect data or serve ads of some sort, the information that could be provided with the glasses will be worth it.
Google executives have recently been teasing the device by posting images on Google+, but a Seattle business isn't as excited as the rest of the population about the ability to take pictures and video with a set of glasses. A dive bar called The 5 Point recently posted on its Facebook page to say that Google Glass beta testers wishing to grab a drink will need to remove their futuristic spectacles to do so. The bar's owner cites the underground sort of culture at the establishment, and notes that people there might not necessarily want to be on camera all the time. The possibility of being taped would seem to ruin the candid atmosphere that the establishment is known for.
While the bar's owner admitted that the posting was partially a joke, it is still a rule in effect and brings up an interesting point. Google Glass might seem really cool to many of us, but it might not be something that is culturally accepted for a little while. In addition to looking a bit odd, the device could easily make people uncomfortable in many settings by making them feel as if they are always being watched, monitored, or recorded.
While some might argue that people can already be easily recorded by smartphones, it is usually fairly obvious when that is happening. The fact that you could be having a face to face conversation with someone and not know if they are capturing not only audio but also video is part of what is so unnerving about Google Glass.
Of course, with any new technology as radical as Glass, there are bound to be some concerns. I'm sure there will be more places that will ban Google Glass use, but I don't think that this forecasts failure for the technology. I also don't think that this bar is starting a trend as much as just reacting to new technology. As people get used to the idea, Google Glass will likely become more and more common, even though there will still be a few select places were people can go to get away from Google's ever-seeing eye.
[
CNET
]