The Google Reader addict's guide to feedly
As of July 1, Google Reader will be no more, and it doesn't look like Google wants to do anything to stop it. Luckily, lots of other great RSS services are out there and ready to accept your traffic, but my favorite by far is feedly. I've been playing around with a lot of RSS readers over the past few days, but I don't think that any of them can really beat the ease and simplicity of feedly – although it still does take a little while to get used to it.
Here are a few things I did to help make the transition a little smoother. And if you're a fellow Google Reader addict like I am, hopefully this will make things a little easier for you, too.
Sign in to feedly using your Google account credentials.
Don't make a new feedly account; instead, sign in using your Google account credentials – just click "Connect to Google Reader" on the main sign in screen. This has several benefits:
All of the current feeds that you're subscribed to in Google Reader will instantaneously appear in feedly.
feedly will stay in sync with Google Reader until July 1 – this way, you don't have to go all in, all at once. You can alternate between the Google Reader interface and the feedly interface, all the while knowing that your starred and read stories will remain in sync between the two services.
Once July 1 rolls around, feedly will automatically transition you over to its own backend service, ensuring continuity and no data loss. It really doesn't get simpler than that!
Change the view to something you're more used to.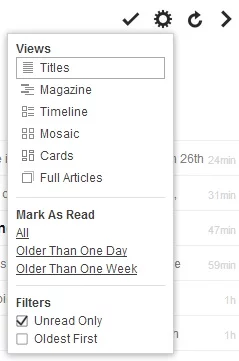 By default, feedly is set to display your RSS feeds in an image-rich, magazine style – in other words, it's about as far away from Google Reader's user interface as you can get. Luckily, it's really easy to change the view to something you're more used to. When viewing your list of feeds, simply click the gear icon, and select "Titles." You'll see your list of unread items, without pictures, in a manner very similar to Google Reader. You'll have to do this for each RSS collection you've got, but feedly will remember your preferences the next time you return to the site.
Saved = starred
If you have a lot of RSS feeds to keep track of, you know the importance of starring articles – it's much easier to quickly scan all of the titles, star the ones you want to come back to, and then mark everything as read. In feedly, this functionality is preserved, but you're simply "saving" your articles for later, instead of starring them. Since the functionality is the same, feedly treats your currently-starred items in Google Reader as saved items in feedly.
Other miscellaneous tips and tricks
Just as in Google Reader, it's really easy to mark all stories as read: just click the check mark next to that gear icon above. The first time you do this, a confirmation box will appear, but you can turn this feature off if you want.
Additionally, be sure to check out the feedly preferences at the bottom of the left-hand navigation pane. Here you'll find all kinds of options to change your start page, fonts, link colors, default views, and much more.
The Android app also offers most of these features, including list views and the ability to sign in using your Google account, so check it out and play around with it a bit. You may find it's actually not all that different from Google Reader, after all.
Hopefully this will help you make a smooth transition to feedly in the coming weeks and months, so you'll be ready once Reader is shuttered for good. As always, I'd still like to hear about any other suggestions you have for alternative services, as well.