GoSmart Series 300 "Rocketship" stylus review
The GoSmart Series 300 Rocketship Stylus looks like a rocket, but functions like a pencil when using it on most touch screens. The Stylus itself looks like the picture on the right, and the point you write or draw with is underneath the removable red rubber rocket base.
While I'm more of a phone than a tablet person (this is intended for tablets), I do enjoy a game of Draw Something with friends and managed to up my game from stick figures into something slightly better. I believe anyone with artistic talent would be able to take their drawing abilities quite a bit further than you're capable of using fingers, but that really isn't me.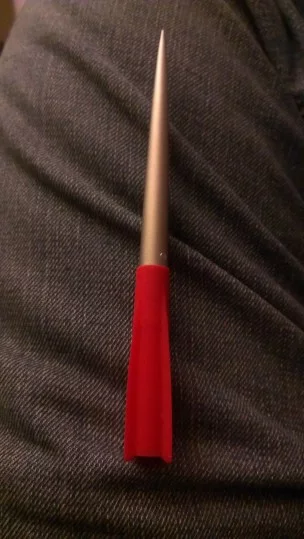 I did most of my playing with this stylus on my HTC EVO 4G LTE, and I was amazed that I finally was able to draw some semi straight lines where I wanted as opposed to somewhere in the rather large fingerprint I was putting down.
The point on the stylus is a large metal circle with a smaller circle inside of it. Pressing the stylus onto the screen results in your device seeing the press in the center circle, so you're able to properly aim where your lines are actually going and see with minimal visual interruption exactly what is happening.
It's pretty much like you've put a pen to paper, if the paper were prone to auto-rotation, pop-up notifications about email coming in, the screen randomly disappeared when someone decided to call you, a case was on the side of the paper that sometimes got in the way, and the paper would randomly disappear if you accidentally hit the bottom of it, etc.  That was on my phone, however, and when I played with it on an iPad it was a nearly perfect drawing experience.
For someone who can draw, I think this is the perfect thing to make a tablet into something you can create on as opposed to just consume from.
GoSmart Series 300 "Rocketship" stylus drawbacks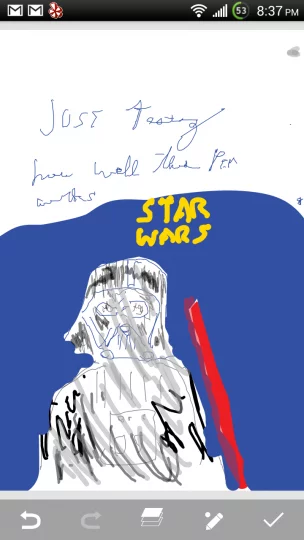 Something I really dislike about it is the pointy side is now facing you. Perhaps it's just me, but I really dislike that when I'm doing detail work and attempting to look where the line is being created. I feel like i'll poke my eye out.
The drawing end also is a circle on a wire, and without the rubber rocketship tip over it, I keep feeling that the thing is going to bend rather awkwardly. It doesn't quite feel like it would break, but it does feel like it's designed to get caught in any e-junk or wires if you lost or forgot the base.
The rocket base also doesn't work as a cover for the pointy end, so no faux eraser heads on the thing.
The stylus doesn't work on everything either, but that's more the fault of your device than it is of the stylus. My Sony Tablet S looked like I was having a seizure while drawing a straight line, but anything else worked perfectly. For a random piece of metal, I really liked this product, and I really had no intention of liking it from the outset.
The packaging my GoSmart Series 300 came in was gift worthy, and had my daughter not been born during this time, I would have a picture featured here of the neat plastic container that it came in. Sadly baby + three weeks involved = me losing the container.
The stylus base comes in white, blue, red, and black and is available from Amazon for $24.95. Replacement tips are available for $6.95, in case you manage to yank your tip off by snagging it on something, which I think will happen at some point in the near future to me.