Outlook RT exists, and it's probably coming to Windows RT alongside Windows Blue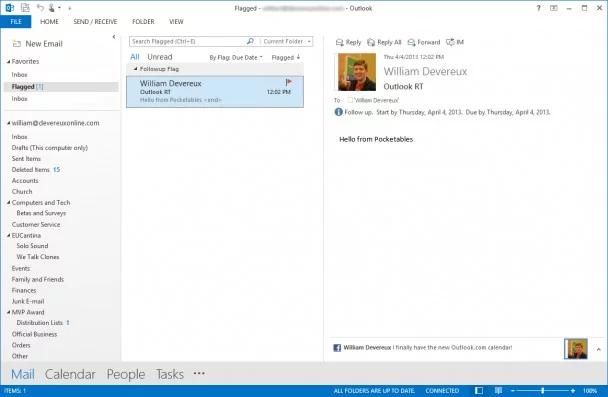 When Microsoft launched Windows RT last year alongside Windows 8, it decided to include a free copy of Office 2013 Home & Student RT with every device. Windows RT does not support the installation of traditional desktop applications, so the inclusion of Office was a great way to increase productivity for tablet owners. But while the majority of consumers use web-based email or the included Mail app, many people love and rely on Outlook, which is not included. Pocketables administrator Grahm Skee noted how much he missed Outlook on Surface RT last November, and he's not alone. "I am one Outlook away from computing nirvana," said NVIDIA CEO Jen-Hsun Huang. "It would make my life complete."
Microsoft has been rumored to be working on a Windows RT version of Outlook 2013 for some time now, but there has been much speculation as to whether it'll ever see the light of day. Could it be due to internal struggles? Technical issues with the firmware? Recently, however, Paul Thurrott ran across Outlook RT in the wild.
Outlook RT is real. That is all.

— Paul Thurrott (@thurrott) April 3, 2013
When he was questioned about this, he replied:
@fullmetal1986 @masterdevwi I saw it. That's why I believe it.

— Paul Thurrott (@thurrott) April 3, 2013
"It wasn't anyone at Microsoft who had it," said Thurrott on Windows Weekly #306. "It was partners from Microsoft. That tells me that it's out in the wild, at least with close partners." Mary Jo Foley also thinks this is going to happen, due in large part to the volume of requests from enterprise customers.
If Surface RT is released – most likely around the release of Windows Blue and Office Gemini in late summer – there's a good chance that it won't be a free update for all Windows RT devices. It will most likely be made available as part of an Office 365 subscription. This would be a logical move on Microsoft's part, since Outlook isn't available with the Home & Student edition anyway.
Are you excited about Outlook RT, or are you fine with the Mail app and web-based email?
[
Twitter
|
Windows Weekly
]