Review: bCODA CODA One Bluetooth speaker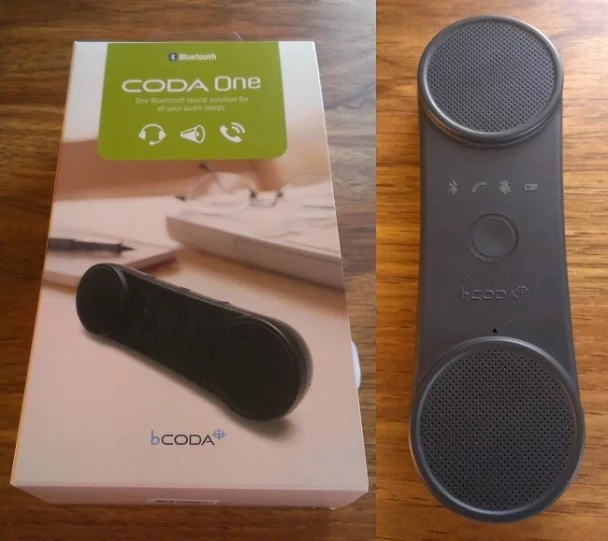 The CODA one is a Bluetooth speaker that claims to fill three voids in your life: First, it's a hands-free device that you can use in your car, for example, to take phone calls. Second, it's a stereo speaker that you can pair with your phone or tablet for music playback. And third, it's a traditional handset that you can use for more private voice conversations.
But can this one, single accessory really fill all three voids in your tech life?
First, the specs: The CODA One is compatible with Bluetooth 3.0 and is EDR compliant. It's got class 2 RF power, and is compatible with HFP, HSP, PBAP, and A2DP Bluetooth profiles. It can pair with up to eight devices, and includes wideband audio, full duplex, noise reduction, and echo cancellation technology, thanks to dual microphones and wideband audio. Its li-poly battery can withstand 20 hours of talk, or last up to 40 days on standby. Firmware can be updated with the included micro USB connector, which doubles as its charging cord.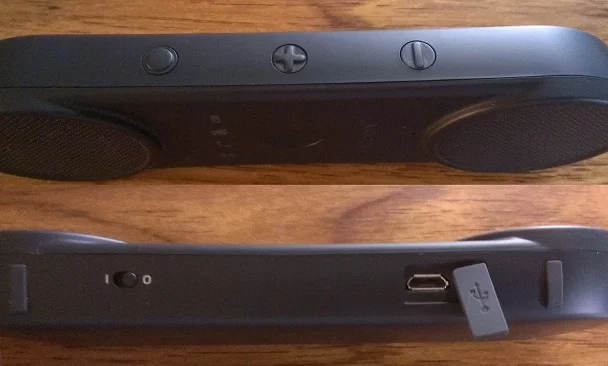 So how does this little gadget perform in everyday life?
As a hands-free device that you can use in your car, it's great. Call quality is on par with, or maybe even slightly better than, comparable Bluetooth speakers, and it can get very loud, as well. It includes a magnetic clip that you can very easily attach to your visor, and the magnets are strong enough that this thing definitely isn't going anywhere if you hit a pothole or speedbump a little too fast.
In my own call tests, people could tell I was using a Bluetooth device, although they admitted that it sounded better than the current Bluetooth system I have rigged in my car (basically, a Samsung HS3000 connected to my stereo system using a standard audio cable). Also, if you give the CODA One access to your contacts when pairing it to your phone, it will announce the name of the person who is calling you – that's a nice feature, and you can respond with one of two voice responses: "Answer" or "ignore."
Theoretically, you can call contacts by name, as well. I found that it was easier to dial by number when using my voice, as it only understood my contacts' names about half of the time. Additionally, it simply wouldn't dial at all if I had two numbers stored for my contact – for example, it would ask me to say "one" for cell or "two" for work, and subsequently refused to recognize my spoken response. I tried this multiple times with little success. Of course, you can always dial directly using your phone, but that kind of defeats the purpose of a hands-free device.
Supposedly, you can also link this up with Siri or Vlingo for other voice commands, but since I use neither of these services, I didn't get a chance to try that out.
What makes this particular Bluetooth speaker unique, though, is that it has the ability to "convert" into a more traditional handset, in case you want to make a call more private. Rather than messing around with your phone, all you have to do is tap a button on the CODA One, and it will take your call off speakerphone, although it's still connected to your phone via Bluetooth. I'm not really sure how useful this would actually be in everyday life, but it's a unique feature nonetheless. I also found myself using it a few times around the house while my phone was busy charging in another room; you might also pair it with a tablet and use VOIP. I suppose it does have its uses as a handset.
As Bluetooth speakers for music, the CODA One is only average. Yes, they do get very loud (loud enough for me to enjoy some music while doing yardwork outside for a few hours), but the actual sound quality is fairly typical for speakers this size: bass isn't too deep, and music can sound a little tinny. But they aren't necessarily bad – I wish they were slightly better, but at this size, I really can't complain.
In conclusion, I give the CODA One a solid 3.5 stars out of five. This accessory gets bonus points for being so versatile and creative, and it really does get fairly loud. I took off 1.5 stars, simply because I wish the sound quality was a little better, the voice dialing just didn't work that well for me, and the handset functionality seems just a little gimmicky to me, although I can also see the point for some people.
Indeed, it is quite versatile, but you'll have to decide for yourself if the versatility is worth the cost.
The bCODA CODA One Bluetooth speaker is available from New Egg for an MSRP of $99.99, although it's currently on sale for $79.99.