Review: Jabra VOX headphones
Paul recently reviewed the Jabra REVO wireless headphones, Jabra's high end Bluetooth headset that, according to Paul, "take the title of the nicest wireless headphones I've ever played with." So I thought I'd take a look at the REVO's smaller sibling, the in-ear Jabra VOX headphones.
How do they compare, and are they worth the $99.99 sticker price?
First, let's consider the specs: these headphones utilize a typical 3.5 mm speaker/microphone jack and can thus be used with mobile phones, MP3 players, or computers, plus the integrated microphone allows you to use these to place voice calls. Using a "hifi" frequency to produce rich audio, these feature a 16Ohm impedance, 20Hz-20kHz frequency range, and 120dB sensitivity at 1V/1kHz. The microphone sensitivity is standard (E-STD), which is comparable to a normal telephone receiver. The cord length is a respectable 120cm or 47 inches, and the headphones are relatively lightweight at 17g or 0.6oz.
An interesting design choice was the sculpted shape of these earbuds, which allow them to fit in the ear canal with ease and also prevent them from easily falling out. The shape also allows you to use these comfortably for hours at a time; oftentimes, cheaper earbuds start to cause minor pain after long periods of use, but not these.
Another nice touch is the bend at the audio jack: rather than stick straight out, like most other earphone designs, this has a 90-degree angle, which is useful if the audio jack on your device is on the bottom, for example. I've come to appreciate this small detail, although it might not matter to everyone.
Supposedly the cord has been tested for durability and can withstand up to 15kg of pull force. That's not something I personally want to try out myself, so I'll just give Jabra the benefit of the doubt here. Another handy feature is the "SnagIt" magnets that are supposed to make it easy to grab these and go, without worrying too much about untangling the cord. While I have to admit that I haven't really had many issues with the cord tangling, like I have with cheaper earbuds, I still prefer the fabric braided cable found on the less-expensive RHA MA450i headphones I reviewed earlier this month, or the similar cord found on the REVO headphones mentioned above. Still, I can't complain too much: even though I've come to prefer fabric-braided cords, they're still relatively rare on most headphones today, and it's obvious that the quality of this cord is higher than many others in the same class.
But what about the sound quality?
You'll have to keep in mind – and I've said this before – I'm not really an audiophile by any means. But these things blow cheaper earbuds out of the water. I am impressed by the deep basses that these produce, and unlike other reviews floating around out there, I didn't really notice any overly tinny sounds or too-high treble. That could be due to the fact that I used these mostly with my HTC EVO 4G LTE, which has Beats Audio built in, although – as Paul mentioned in his review – you get access to a Jabra / Dolby application that you can install on your Android or iOS device, which can help with the sound quality if you happen to find it lacking. With Beats Audio off, and at the default settings, the bass reproduction is nothing to write home about, but once you start individualizing your equalizer settings, the full power of the Jabra VOX headphones finally makes itself known.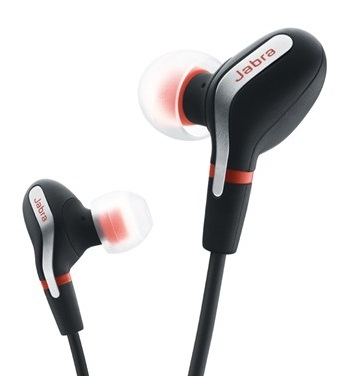 These also are great at cancelling out a lot of the noise in my surrounding environment, although noise cancellation isn't as perfect as the Jabra REVO. However, given the laws of physics, for in-ear buds, the Jabra VOX is top of the line in this regard.
There are also fairly unobtrusive controllers located right at mouth level that allow you to pause, change tracks, or adjust the volume. Not all of these features worked on my EVO, which is understandable since these things are usually designed for iPods or iPhones. It's also worth noting that there's a very slight delay after pushing the buttons, which might cause you to push them again unnecessarily. This is also common with many other headset controls, but it's worth pointing out.
So, in other words, without getting too technical, the Jabra VOX headphones sound great – they're among the best earbuds you can buy – and I don't think most people would be disappointed with them.
However, there are a few things I'd change. The cord between the 3.5mm jack and the split is made of a slightly different material than the rest of the cord: it feels a bit cheaper or lower-quality, and I wish Jabra would have used the same material throughout. It is nice that Jabra includes two spare "ColorCore EarGels" – the flexible tips that go into your ears – just in case these get worn out over time, or in case they fall off. However, RHA included seven pairs with the set I reviewed – and for half the price of the Jabra VOX – so it's sad to see the Jabra skimping on this. There is also no mute function (all right, now I'm just nitpicking).
Even given all of the things I'd change, this is still a top of the line set of earphones. As an added bonus, I do like the protective pouch that Jabra includes, with an easy snap-shut mechanisms. It doesn't look like it will be a dust magnet, either, which is great.
However, I'm not sure if I'd spend $100 on them, but that's not because these lack in quality design or workmanship: I simply don't know if I'd spend that much on any earphones, period. If you're the type who would, though, you probably won't be disappointed. And unlike some accessories I've been given to review, I don't want to give these up – they are definitely in my "keep" pile.
What I'm saying is, there's a reason these won the 2013 Red Dot Design Award, and there's a reason consumers have given these four out of five stars on Amazon. A lot of detail went into the design, and the sound these produce won't disappoint. I give them two thumbs up.
The Jabra VOX headphones can be purchased from Amazon for $99.99.