Screen Standby # Root 2.0 Beta 2 kills screen, not tasks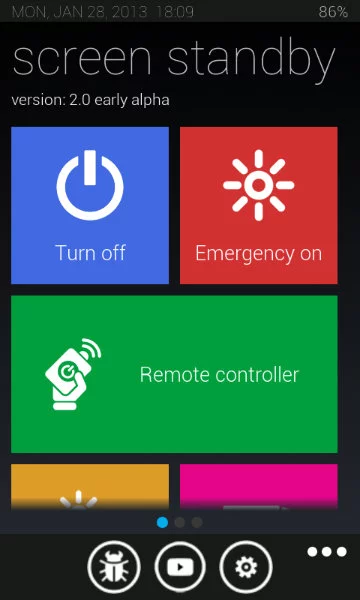 Screen Standby # Root 2.0 Beta 2 is an application by developer nkahoang that addresses the problem of  turning  your screen off to save battery, but still needing applications to run full tilt while the screen is off.
For example, if you've got an HDMI cable running from your phone to a television, chances are once you've started your movie or game that there is no need whatsoever for the phone to continue wasting battery power keeping the screen on. In some cases, you can even recharge off of a TV connection.
A cool thing about Screen Standby # Root is that when the screen is off, you can still optionally use your device as a touchpad, so if you're playing Angry Birds on a 50-inch screen, you can control it with your 5-inch screen.
Another cool reason you might want Screen Standby # Root is the ability to stream YouTube and the like when the screen is off. Just because the screen is off doesn't mean you don't want to listen to music streaming across a video service.
There is also a remote control feature if you want to be able to turn off the screen remotely, and some various methods of launching the app. The remote control allows another device to turn the screen off, launch an app on the device, remote soft keys, push text remotely, and adjust the volume.
While I can't quite come up with many uses for the remote control integration that I would use personally, it's a neat feature if your phone is in another room or buried behind the tv in a pile of wires.
All in all it's a very nifty little root app that's a must-have if you're bringing a phone and an HDMI/MHL cable and nothing else.
Screen Standby # Root 2.0 Beta 2 is available for free in the XDA support thread linked below, or you can grab a stable version 1.99r2 from Google Play.
[
xda-developers
]