The "Google X" phone just made an appearance in a benchmarks test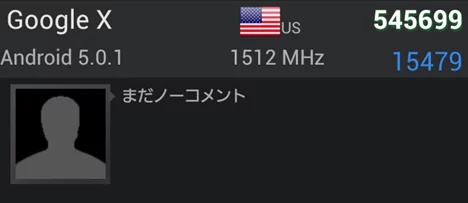 The fabled Motorola X-Phone that everyone in the Android world has been talking about just got a little more real. Specifically, it made an appearance on the AnTuTu benchmark site, named simply "Google X," sporting a 1.5GHz processor and running Android 5.0.1. It also happened to return a decent score of 15479.
While it is possible that this is a forgery, it's actually quite common for unannounced or upcoming devices to make guest appearances around the web in the months leading up to their releases – this happens on benchmark sites, and in simple tracking statistics that report what devices are accessing certain web content.
The version number of Android, and the timing of this appearance, make sense. While rumors have indicated that Key Lime Pie – the next version of Android – might be delayed a bit, it's still likely that Google would announce the upgrade to Android at Google I/O, since there is literally no better time to do so during rest of the year. (It is a developer conference, after all, with its main purpose being to encourage more development on Google's platforms.) Speculation has also run rampant about upcoming Motorola devices being delayed until August – but again, even if this were the case, it's not uncommon for companies to announce products months before they become available to the general public.
What do you think? Is this legit, or were you expecting something with a higher processor speed?
[
Android and Me
]