The long-rumored 'Facebook Phone' is a launcher dubbed Facebook Home, not a physical device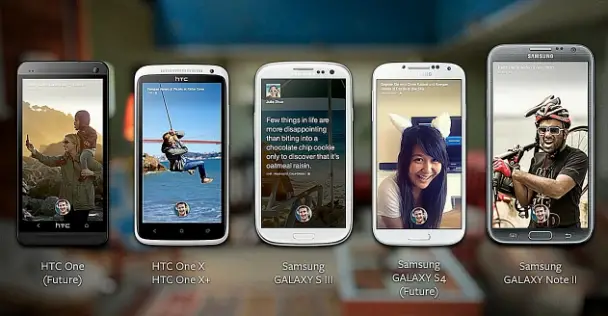 After much rumor and speculation, the "Facebook phone" has finally been announced. But rather than partner with a manufacturer and develop a new OS or fork a version of Android, Facebook decided to simply create a launcher capable of running on existing smartphones. Facebook Home will debut first on Android on April 12, with new updates expected every month.
Facebook Home replaces your homescreen with a Coverfeed. Notifications, messages, photos, recent stories, and other Facebook staples take up the majority of the screen, while apps are accessed by swiping your photo at the bottom upward. The social networking giant spent a large portion of the announcement talking about "chat heads," which pop up over any app when you receive an incoming message. This allows you to respond to messages directly above any app. Of course, you can also swipe the chat head away to ignore it.
Interestingly, Facebook Home allows you to interact with your network directly from the lock screen. You can scroll through photos, stories, and status updates, like or comment on posts, and more before you even unlock the device. In some ways, this seems to defeat the purpose of a lock screen, since it could potentially allow strangers to access on your Facebook account with little-to-no effort.
Facebook Home will only support Android smartphones at launch (no tablets yet), and getting it simply requires you to open the Facebook app on a supported device and select install. The app will let you choose between running Facebook Home once and setting it as your permanent homescreen. Facebook is looking into bringing the "app" to other platforms in the future, but the closed nature of the iOS and Windows Phone app stores make the task slightly more difficult. Of course, it's surprising how many Windows Phone features can be found in Facebook Home, so you might not need it on Microsoft's OS.
A new device, the HTC First, will be the first to include Facebook Home, but it will be supported on the HTC One X, HTC One X+, Samsung GALAXY S III, Samsung GALAXY Note II, and (soon) the HTC One and Samsung GALAXY S4 as well. The HTC First will be released exclusively on AT&T on April 12 for $99.99 in red, baby blue, white, and black, with a European release on EE and Orange expected in the coming months.
[
TechCrunch
]