Block Outgoing Calls app lets you loan your phone in peace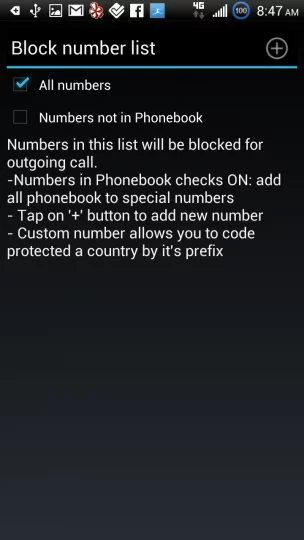 Block Outgoing Calls is an app from Droid Mate that enables you to block all outgoing calls, calls to numbers that are not in the contact list, or calls to specific numbers, all with the check of a box, and without unlocking the app.
I tested it with the Sense dialer on my HTC EVO 4G LTE, and attempted to break out of the call block box by using other methods such as voice dialing, clicking on phone numbers in my Google Voice inbox, and using a couple of random apps that auto-dial their support lines. The end result was that, in every case, I was unable to dial a number in any circumstances other than what was allowed. I think it does the job.
The app includes a widget that allows you to toggle the blocked call feature on and off with just a press, or a tap and a code, depending on how many obstacles you want to place in front of a person and the phone dialer.
Why would you want the Block Outgoing Calls app?
You're at a family picnic, your nephew has exploded and discovered that you have the world's most awesome phone capable of playing whatever it is that kids are playing. One tap and it's safe to give to him and not worry he'll be making calls to any of your contacts.
Alternately, you can block certain numbers in case you don't want to accidentally dial them after appletini number four.
In a business or parental setting, you can give out a phone that's only capable of dialing home, grandma, the Charleston office, and 911. Your usage, and the alcohol you're ashamed to admit you imbibed last night, may vary.
Wrap up
Block Outgoing Calls is $0.99 and available in the Play Store.
If you want to try before you buy, you can also find a trial link on XDA, which is where the screenshots I'm posting came from – but remember, if you try it, $0.99 is not going to break the bank generally and developers need money for cat food.
Alternately you can purchase it and, if you don't like it, get your money refunded in 15 minutes. You'll know pretty quickly whether this is an app for you.
Download: Google Play