DryCASE waterproof case review
DryCASE is a vacuum sealed case for your smartphone that protects from water intrusion, allows you to plug in headphones, and still allows for you to touch the screen and operate almost any device normally. The first time I saw DryCASE, I thought that was a lot to pay for what appeared to me to be a ziplock bag with some branding, but then I actually got one and have seen what has gone into it and what it can do.
DryCASE markets itself for swimming, surfing, scuba, and other watersports where a drop in the drink costs you upwards of $600. You may be thinking that perhaps the smarter solution here is to just not bring your smartphone, but music can make some dreary stretches of time pass more pleasantly, and GPS never hurt anyone.
DryCASE includes a one-way air pump, an armband that floats, and a lanyard/carry strap.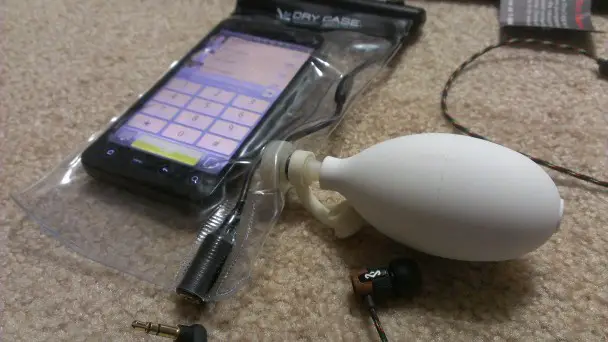 DryCASE buoyancy
You may wonder why you would want to remove the air from the case, allowing it to sink – and more to the point, why they would then include an armband that floats. The reason is fairly simple, and it's that with air in the pouch, your touches don't get transmitted correctly or easily, and it would be hard to scuba dive carrying a pint of open air with you. Removing the air also means that water pressure is less likely to fault the skin of the DryCASE.
The floating armband can be worn if you're not wanting the DryCASE and contents to sink to the bottom of the lake or sea, and you can also remove it if you don't mind.
DryCASE uses
The manufacturer lists a lot of activities that  DryCASE is suited for, such as swimming, SCUBA, kite surfing, boating, kayaking, mountain biking, standing looking longingly at the ocean, etc.
I've spent some time thinking up other options for it, though.
Groom (you tend to get thrown into pools)
Coach (you tend to get buckets of Gatorade tossed on you)
Anyone who works or jogs outside
Those attempting to video their babies – it's amazing how those things can explode
DryCASE drawbacks
So, although I do like this thing, the DryCASE is designed as a universal phone case. As such, it's a bit larger than it needs to be for my phones. The pumping mechanism/airlock on the right of the case takes up a lot of real estate, which I guess is OK if you're not planning on pocketing the thing.
You cannot use a touch screen under water. The SCUBA example would require setting the phone to play music and then hoping you have the ability to skip bad tracks using a volume or hardware button or something. This isn't the DryCASE's fault; it's just how touch screens work.
The included arm strap is also kind of bulky – while this is for buoyancy, it would be nice if there was a less insane one included with the case.
Finally, the MSRP of nearly $40 is a bit high in my opinion.
Quick video
I could have shown you the original HTC EVO 4G in a bucket, but it looked better in a sink with water running on it. You can see pretty quickly why you wouldn't be able to use your phone in water.
Miscellaneous notes
You shouldn't have much problem positioning the phone inside so that you have access to the power and volume buttons, but if you have a case or extended battery that makes these hard to press in the first place, you may want to ditch that case while you're using the DryCASE.
At least on my EVO 4G, the DryCASE headphone jack always indicated to the EVO that there were headphones plugged in, which means sounds play through there regardless. You may need an app to change that setting around, or headphones to hear anything. Audio sounded OK through the plastic – not great, but not terribly distorted.
The DryCASE is available from Amazon for $23.98.