How to tweet using Tasker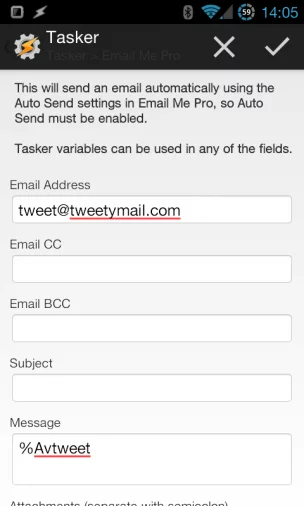 Here's a quick and simple way to tweet to Twitter from Tasker, and it even supports photos!
This morning I had an idea for AutoVoice that required me to find a way to tweet from Tasker, including the ability to attach photos. The very first thing I tried works perfectly, so I didn't look any further.
This method requires two extra services/components. First off, you need an account at a service like tweetymail or similar, which allows you to tweet using email. Second, you need Email Me Pro, a Tasker plug-in that allows you to send emails using a Tasker action, without any user interaction. Set up both with the same email account (I have a separate email account I use for such things), and make sure Email Me Pro is capable of sending emails with what you've configured.
Once that's done, simply use the Email Me Pro plug-in action from within Tasker. Put tweetymail's tweet address([email protected]) in the address field, and whatever text you want in the message field. You can also use variables, and they will be properly replaced before sending the email.
This also works with attachments, specifically photos. All you need to do is provide a file path to the image in the attachment field, which can also be a variable. As an example, %FOTO is a built-in Tasker variable that links to the last photo taken, and works perfectly.
I'm sure there are a dozen ways to do this, but since this works as well as it does, I'm just going to leave it be. It works with both text and images, is quick even for attachments, and requires no user interaction.
I was able to get my AutoVoice tweet feature working perfectly with this. I can now tweet using voice commands, with three possible "modes": normal tweet, photo tweet, and photo with caption, all automatic. The result is this: