The iRig MIC Cast is a miniature microphone that plugs into any standard 3.5mm headset jack for clear voice recording with no background noise. It features a stereo 3.5mm headphone output that supposedly enables real-time monitoring of what is being recorded using a separate pair of headphones or speakers, along with a small switch that provides two different sensitivity settings ("Lo" and "Hi")  to record close-up or distant sources. It also comes with an adjustable table stand for more convenient positioning during recording.
But before we get to my actual opinion of the microphone, though, let's take a quick look at the specs.
Microphone type: condenser electret
Polar pattern: unidirectional/cardioid
Frequency response: 100Hz – 15kHz, -3dB
Maximum sound pressure: 110dB
Distortion: 3% THD at 110dB, 1kHz
Windscreen: built-in
Size: 30mm/1.18-inches x 47mm/1.85-inches x 10mm/0.39-inches (W x L x H)
Weight: ~15g/0.52-ounces
While it's specifically designed for iOS devices (iPhone, iPod, or iPad), iRig says that it's also compatible with most Android smartphones and tablets. It specifically lists the Google Nexus S, HTC Desire HD, Samsung  Galaxy S, Galaxy S II, Galaxy S III,  Galaxy W, Galaxy Note, Galaxy Nexus, Galaxy Tab 10.1, and Galaxy Tab 7+. In my own tests, it seems to work on the HTC EVO 4G LTE (without the "real time monitoring," though), but it doesn't seem to function at all on the ASUS Nexus 7.
iRig does note that the bumper-friendly mini-jack connector fits the majority of iPhone and iPod touch cases.
iRig also says that most Mac computers starting from late 2008 are compatible with the exception of the Mac Pro line. To check if your Mac is compatible, you can select About This Mac > More Info > System Report > Audio, and then check that "External Microphone / iPhone headset" is appearing on the list of included features.
I did get some weird behavior on my Chromebook Pixel, which is to be expected and could be due to any number of factors (Chromebooks aren't officially supported by iRig, and I'm on the beta channel). When plugging it in to the headset jack by itself, it did not seem to function (I tested by recording a video directly to my private YouTube channel). However, when I plugged in a headset, the Chromebook started to record from the microphone, although again I did not hear the "real time monitoring" that iRig claims this device is capable of.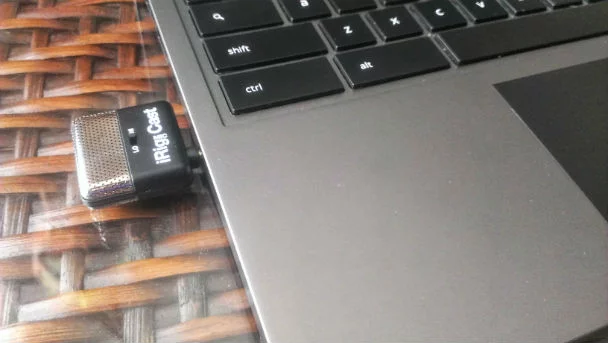 While using it to record audio on my EVO 4G LTE, I was generally impressed by the quality of the microphone, although it's not the best I've ever experienced. My voice sounded much clearer than it did when using the built-in microphone in my phone, and the Hi/Lo settings seemed to work as intended. I am, however, a bit concerned about how well this microphone is able to pick up sounds at a distance. Even when using the Hi setting, recording quickly degraded as I moved further away from the microphone. To be fair, the included instructions do recommend that you always point the microphone directly toward the sound source for the best result, but it's also advertised as "great for business applications like recording meetings," along with lectures and speeches, when it's not always possible to position the microphone ideally. I fear its performance would suffer in these instances.
It does, however, seem great for short podcasts, interviews, voice memos, or even simply enhancing the audio quality of a conference call over Skype or Google Hangouts. Again, you're not going to get the absolute best possible audio quality from this microphone in all circumstances (why would you expect that, considering the price?), and for that reason, I'm not sure I would have used this full time back when I co-hosted the CrowdGadgets podcast. But still, for shorter voice recording needs – and even the quick podcast here and there – it will certainly get the job done.
A nice added touch that is definitely appreciated for those who are using for longer recordings is the included table stand. This can hold your phone or tablet in landscape or portrait mode, and it's strong enough to sturdily hold even my heavier Nexus 7. (I might actually end up using this simply as a desk stand, without the microphone!)
iRig does provide free Android and iOS recording apps, although to unlock all features, you need to upgrade to the premium version, which is on sale now for $3.99. (I'm not sure what the normal price is.) To be honest, I didn't mess around with the app much, because I think the premium version should be included with your purchase for free. It puts a sour taste in my mouth that iRig expects you to pay more for its software after shelling out a good chunk of change for the microphone already.
Speaking of the price, I feel it's a bit expensive for what is offered here. iRig charges $40 for the microphone and the stand. The latter is just a piece of plastic that probably cost less than $1 to manufacture, and the microphone is on par with those that cost around $20. It's not a bad microphone by any means, and the form factor is nice, but for $40 it should blow me away just a little more than it does right now.
So, in conclusion, I give iRig MIC Cast credit for its small, pocketable design, the inclusion of a headphone jack for real time monitoring (even though that didn't really work on my devices), and a sturdy table stand. I'm knocking some points off for its price and the fact that premium versions of its apps aren't included with your purchase.
Would I spend $40 on this myself? Probably not. I think you can find better microphones at this price point. However, you might not be able to find microphones with the same portability and convenience this one offers, so it's up to you whether or not you're willing to shell out the cash for that or not.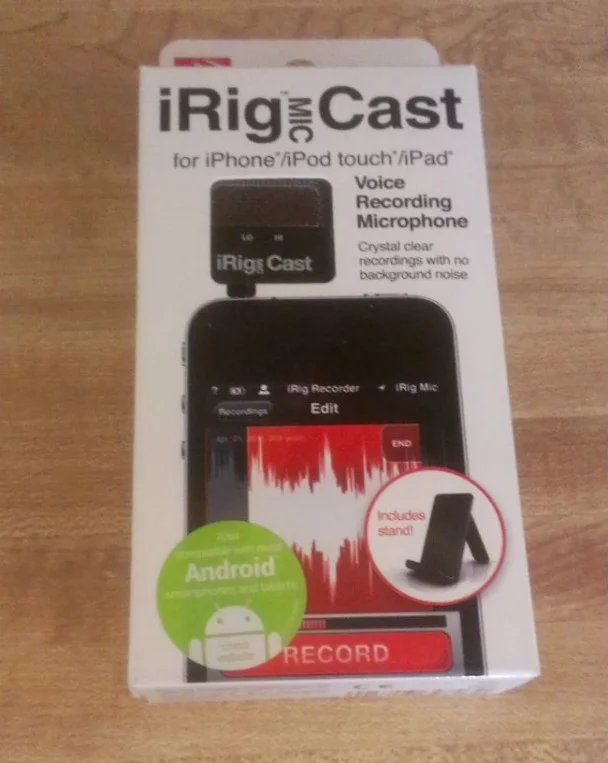 The iRig MIC Cast is available for $39.99 from IK Multimedia.