Jabra MOTION Bluetooth headset review
The Jabra MOTION Bluetooth headset is Jabra's newest wireless offering that allows for nearly seven hours of talk time or fifteen days of standby with a connected mobile device. It includes a motion sensor that is supposed to allow you to effortlessly take or make an important call wherever you're at. But is this the  right Bluetooth headset for you?
I had a bit of trouble determining how one uses any sort of movement to properly use the motion sensor, as there is nothing in the box to indicate what this means, except a small note at the bottom of a quick start guide that the manual is online. Looking at the manual, it claims the movement sensors activate features in a device based on movement, or lack thereof – that's really not helping too much.
A little more digging found the manual here. What the motion sensor accomplishes is this: if you've left the headset on a desk and pick it up, it will automatically answer the call. Alternately, if you've got your phone on vibrate and it's on the table next to it and falls off, you've got it answering the phone for you.
The second use of the motion sensor is if the Jabra MOTION is left on but placed on a table and not moved, it will go into a power nap mode. The thinking on this is that the average user of the Jabra Motion is probably not a ninja silently stalking his target, awaiting the moment to strike; therefore, the headset can assume if it's not moving it should conserve battery.
And finally, if you're walking, the volume will increase. I couldn't notice this increase, but there was only so much time of talking to friends saying, "And how does this sound? So tell me something that happened today while I wander around my yard," that I could do with it. I'll assume it works.
Noise cancelling
The Jabra MOTION has dual microphones to counteract wind noise. I couldn't test this out, as it hasn't been very windy lately, and if it is it's pouring buckets. Being in front of a fan didn't seem to have the same effect -that, or the noise cancelling was just that great.
Whatever the case, no call I made was really affected by any environmental actions, although there was really no test bed that I could produce.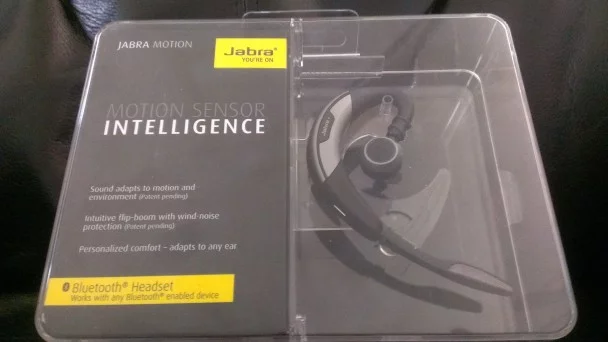 Jabra MOTION NFC implementation
If you've got NFC (if you've got the HTC EVO 4G LTE, you do), simply tapping the headset to the phone's NFC area will initiate Bluetooth pairing. It's a pretty nifty feature if, for some reason, you're going to need to hand off between multiple cell phones, or you just don't want to deal with setting up the thing over and over again.
You can also transfer audio control back and forth from phone to headset by tapping the phone to the NFC region. Not having multiple NFC phones available at the moment, I can't tell if this might be a neat thing.
If you don't have NFC, you can still connect by holding the call button while the thing is off and flipping it open. It'll appear as a connectable Bluetooth device, and you can pair normally (the password is 0000 if your device requests it).
Jabra MOTION Bluetooth headset controls
The Jabra MOTION has a touch sensitive panel that's set up to change the volume on the headset, a voice command and mute button on the microphone arm, a multi-touch call button that has many different uses (answer, end, talk time status, reject call, redial, switch between calls), and the microphone swing arm that serves mostly as an on/off switch.The call handling requires long holds, and call rejection is a double tap. It only takes a bit to learn them.
Jabra MOTON voice commands
This headset includes eight built-in commands and one pass-through. Pressing the button on the mic while the phone is not on a call puts you in the mode to issue commands to the headset.
The commands are:
"What can I say?" (help)
Answer
Ignore
Pair new device
Redial
Call Back
Battery (get battery stats)
Cancel
Phone commands
The phone commands is designed to work with Siri-like services. I'm not entirely sure how it's supposed to work, as I did not have a recent iDevice in the house to assault with the headset. It didn't seem to interface with Google Now, although I'm running a custom ROM on the phone, so it may work out of the box for you.
Jabra CONNECT app
There's also an app called Jabra CONNECT that allows you customize some settings such as the busylight indicator, power nap mode, whether you want to use the power nap mode, and a few other options. I didn't use the app, as the device was working pretty much like I wanted it to from the get-go.
Tech specs
17.5 grams
Bluetooth 4.0
Eight available stored paired devices
Bluetooth profiles: A2DP v1.6, Hands free profile v1.6, headset profile v1.2
100m operating range
Two omni-directional microphones
Up to seven hour talk time
15 day standby
Standard MicroUSB port
Charging and busy indicators
What's in the box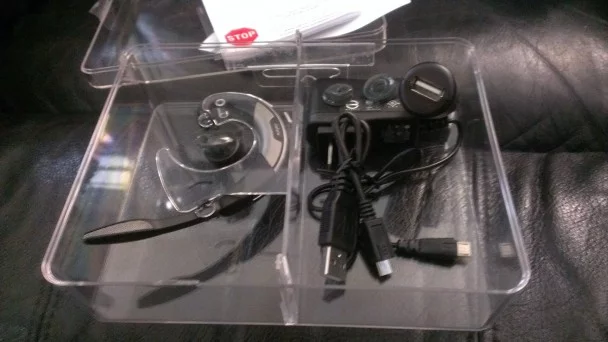 Headset
Two additional ear gels (small, medium, large included)
180mA charger (you can not charge a phone with this)
USB to microUSB cable  (about four inches)
12/24v to 750mA car power adapter (you can charge a phone)
Quickstart guide
Paper informing you that you need to charge the device
Warning manual
Warranty fortune-cookie paper
Half post-it-note telling you to register online
Jabra MOTION: Paul's adventures
The headset fits on your right or left ear. It's a bit of a challenge getting the thing on the first time or two, but once you figure out what you're doing right and wrong, you'll get it.
Once paired, you can play mono audio out the device. It sounds pretty decent, but unfortunately there seems to be no indicator to other people that you're doing anything as they keep talking to you while your music is blaring.
On a call the device is pretty decent. Being on a cell phone network where the calls are OK at best, I couldn't get a great feel for how great the audio was. It sounded very nice when I just recorded some audio off of it.
I found myself accidentally redialing people while I was playing with it initially, and the volume control seemed to be a punk if I had any hair strung over the earpiece, but once I got it set in the range I wanted I was more comfortable adjusting it on the phone side. Your mileage and hair may vary.
The Jabra MOTION can't understand half of what I say. The speaker is excellent, but the voice recognition doesn't seem to understand me unless I pick an accent and stick with it. It seems to understand standard Midwest perfectly, faux Southern fine, but my particular mess has to be enunciated rather than "natural-languaged" in. Eh, c'est la vie y'all.
I'm also not a huge fan of the idea of a Bluetooth headset. I have one other that I've had for eight or so years now and lasts 12 minutes on a charge. (That shows you how much I use these things.) If I come across as disliking this, it's more I dislike the idea, and not so much the implementation.
The implementation, other than the voice recognition, I think is great. The sound is great, it feels like it was custom designed for my ear exclusively, and I've honestly never worn a device that I stopped noticing, but I stopped noticing that this was on me after a while.
It's a good product, and at the MSRP it's not horribly out of line with what I would expect to pay for something that does what this does this well. It's a great product in inventiveness, but it's not quite for me just because I do not talk terribly much on the phone. At least it has made me suspend my active dislike of Bluetooth earsets.
The Jabra MOTION is available from Amazon for $129.99.