Tip: This cheap adapter brings full HDMI compatibility to the Chromebook Pixel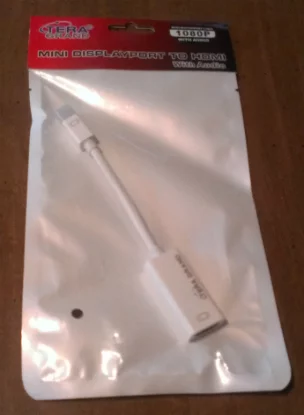 No HDMI port on Google's Chromebook Pixel? No problem!
When I first heard that Google had opted not to include an HDMI port on the Pixel, I was a little taken aback – after all, this a the most premium Chromebook around, and my dinky little $249 Samsung Chromebook had an HDMI port. What was Google thinking?
However, that's not really the big deal I originally made it out to be. The Pixel has a Mini DisplayPort instead, and with the cheap adapter you see on the right, my Pixel now has full 1080p HDMI compatibility, including audio. This Tera Grand adapter supports DisplayPort 1.1, with a data transfer rate of 5.4Gbps data rate. While that's not the most recent DisplayPort version, it certainly gets the job done, and to my untrained eyes and ears, it looks and sounds no different than if it were a standard HDMI port.
The best part is that it only cost $9.95 – with free two-day shipping since I'm an Amazon Prime member – and it simply works.
The more that I think about it, the more sense it makes that the Chromebook Pixel only has a Mini DisplayPort. This port lets the Chromebook connect with HDMI, DVI, and VGA devices, all in one port. It keeps the physical design of the Pixel minimalist and simple, and that's just the way I like it.
If you've found any other cheap adapters that work great for you, please share with the rest of us in the comments!
The Tera Grand Premium Mini DisplayPort to HDMI adapter can be purchased for $9.95 at Amazon.