BlueBuds X Sport Bluetooth earbuds review
BlueBuds X by Jaybird are wireless self-contained stereo Bluetooth earbuds with a built-in mic and three-button control pad aimed at a person who's fairly physically active and doesn't want a lot of wiring bouncing about.
Read on for my review, and to see if they are worth your money.
BlueBuds X overview
What's in the box:
BlueBuds X headphones
S, M, L earphone tips
S, M, L secure fit ear cushions
USB to microUSB charging cable
Cable clips
Carrying case (which is actually pretty stylish)
Basic features
Make and receive calls

Eight hours music time
250 hours standby
2.5 hour max charge time
Patented secure fit for sports applications (although it is beyond me how they are patented)
Official training headphones for the USA Triathlon
13.8 grams
Advanced features
The BlueBuds X have a thing called Shift Premium Bluetooth Audio. The theory behind this feature is a re-written implementation of Bluetooth audio transfer, although no special software is required to be installed. According to the manufacturer's site, Shift just handles the rest. I'm guessing that means it supplies its own codec or something similar, but the result is that the audio sounds very crisp.
They also feature Puresound, which claims to eliminate listener fatigue by effectively canceling your body's echo against the earbuds. Not having experienced listener fatigue ever, I can't comment on the effectiveness of this.
These are also sweat-proof. The manufacturer recommends against submersion in liquids, although the device should withstand a bit of rain and sweat.
"Jenna" is an automated voice prompting connection software built in that can help guide you through setting up the BlueBuds X on your device. For me, I tapped Bluetooth, find, connect and was done.
BlueBuds X in action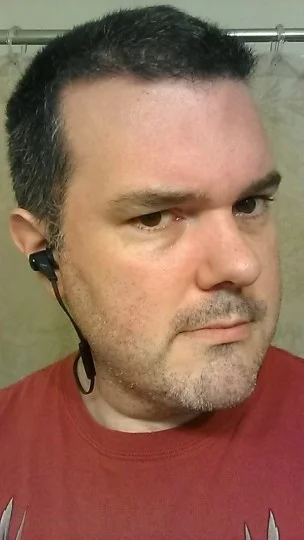 First of all, putting these together takes some reading. I'm used to popping an ear-tip on a device and running with it (literally). With the BlueBuds X you have multiple options to wear the thing in various ways to keep it out of your way.
You have the option to wear them down, as seen in the picture to the right, which for my jig jogging ways was pretty perfect as-is; or you can wear them in such a way that they come out of your ear, wrap over the top of it, and tie off the slack using the clips to the back of your head. They call this X-FIT although I do wonder at them trademarking "cross fit".
According to the manual, the over-the-ear method is not designed for phone calls, as the mic will be in the wrong location, I didn't test the mic with it on the side of my head so I can't comment on it.
In either configuration scenario you need a little bit of setup time to get the ear cushions set right and everything in order; however, once that's done, you're pretty much ready to go. It took me about five minutes to adjust everything to perfection and start enjoying them as a headset.
One of the first things you'll notice if you do any sort of jogging or running like activity is that the "boom boom" noise you get from most wired headsets just isn't there. If you've got these in a proper fit, there will be almost no noise related to wiring moving around.
The wiring that the BlueBuds X does have is coated in something rubbery that also prevents course old man hair from channeling scratchy noises into your ear. This is one thing I've hated about most wired plastic coated speakers for a while. My Brillo hair makes them sing white saw noise into my head.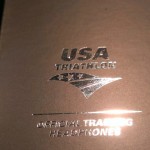 Initially, I thought the quality was kind of low on the bass end, but then I managed to properly get them fitted in my ears and was blown away by the sound reproduction.
As a warning, you may want to conduct a sound check to see how well you're aware of your surroundings. I was holding a baby and listening to the earbuds, and I did not hear that she was crying her eyes out wanting vengeance or whatever it is two month-olds want.
While for me it was just a minute of not noticing a baby, the music was not all that loud. In the real world you'll probably want to make sure you've got a sense of the audio around you, as I probably would not have heard a car horn. The noise isolation on these things is amazing – either that, or they just perfectly fit my ear canals. Your mileage may vary.
BlueBuds X calling
The BlueBuds X have a no-interference calling distance of about 15 feet. This of course depends on line of site and your phone, but you can wander pretty far before you start getting distorted audio. The mic on these is also pretty good – I can't get a sense if it's muffled, or it's just a cell phone issue (which it usually is in my mic tests), but everything about the calling sounded great.
Miscellaneous
These are kind of amazing. I've never had a perfect set of exercise earbuds until now. The only thing I think I would like on these is a button on the earbud itself to answer a phone call. When you're a sweaty wreck the control piece is a little bit of a hassle. That might just be my experience however. Or perhaps a left and right bud with no wire to potentially get caught. But that's pushing it.
BlueBuds X have an MSRP of $169.95 or you can grab them at Amazon for $4 less. They're more than I want to pay for a set of earbuds, but this is one of the few products I've seen in that range where I thought "hrmm… I can see paying that." They are that good.