HMDX Rave portable rechargeable speaker review
The HMDX Rave is a wireless Bluetooth speaker that I saw while at the International Consumer Electronics Showcase in Las Vegas back in January, and I had high hopes for the device when I finally got my hands on it earlier this month.
Unfortunately, the HMDX Rave is not quite on par with their original Bluetooth offering the HMDX Jam, which is still the standard by which I judge wireless Bluetooth speakers these days, but for the price you might not mind where it falls short.
I'll cover the basics and then get to where I am disappointed later.
HMDX Rave specs
Wireless range of 30 feet (we'll talk about that later)

Aux-in for non-Bluetooth devices
Four hour wireless play
Four colors to choose from
6.5 x 1.75 x 2.5-inches
11 ounces
Input power: microUSB 1000mA (USB cable, no charger)
Five-buttons (play/pause, rewind, ff, speaker vol down, speaker vol up)
HMDX Rave in use
So, if you're looking for a radio-quality speaker and don't plan to move your transmitting device very far away from the Rave, you're pretty much set for a decent portable inexpensive speaker.
Unfortunately, the audio doesn't have the oomph that the Jam did, and the device weighs about the same. I had hope it would have been improved upon, as it's been a year. Audio comes across as clock radio quality – a decent clock radio, mind you – but I wouldn't rave about the Rave.
I could not achieve the 30-foot wireless range, and when people walked between the transmitting base (usually my HTC EVO 4G LTE) and the HMDX Rave, the audio would break up. Since I could not get anywhere near 30 feet with my EVOs or my laptop, I decided to borrow an old D-Link Bluetooth DBT-120 USB to Bluetooth adapter and slap it on my desktop. It didn't work, although it did manage to get me about five feet further. I topped out at about 18 feet with the USB Bluetooth connector before the audio was breaking up, and about 12 feet with my EVOs.
The audio also breaks up at about 11 feet with the D-Link if there's anyone between the base and it. So this is not exactly something you bring to the party and wander around with a phone playing mobile DJ, which I have done with the Jam before. Audio cracks at six feet if there are two people between base and the Rave.
I also tested it with the Matrix ONE and got about 25 feet before audio started getting bad, so I am pretty confident that it's an issue with the Rave and not my setup.
However, the HMDX Rave doesn't sound bad as long as you're within range, and if you want to take it on a picnic, it's pretty nice. It's also pretty cheap for what it does, coming in at $30 at several retail outlets. It looks like you can purchase this cheaper at Best Buy in person than online.
HMDX Rave problems
Range doesn't reach 30 feet with anything I can throw at it

Constant blinking blue light to indicate Bluetooth/power ruins mood
No lower end/bass range to speak of
Charging requires a USB connection, thing is large enough to have an outlet plug built in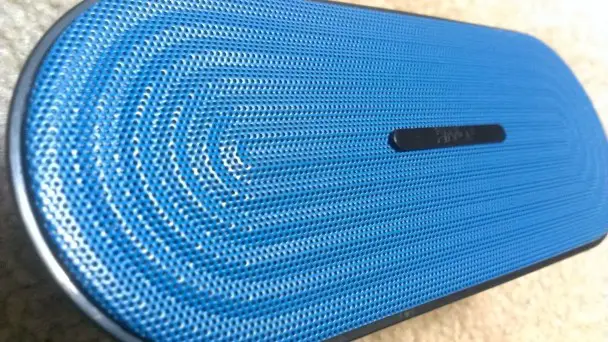 Why you would want the HMDX Rave
Price (it's pretty decent for around $30)

Portability (better than a Solo cup and a mini speaker)
You're looking for a back-yard music source
Pretty nice packaging for a gift
The HMDX Rave is available from $33.41 at Amazon, but you can find it slightly less expensive at local retailers.