House of Marley Riddim On-Ear Headphones review
Riddim On-Ear Headphones from the House of Marley offer a unique sound and an earth-friendly approach. All of House of Marley's products are covered under the company's commitment to superior quality, earth friendliness, and cause-minded support of the 1love movement.
That being said, you'll either love the Riddim on-ear headphones or you'll hate them, and I don't think there's an in-between.
Riddim on-ear headphones construction
The headphones feature leather ear cushions with little triangles cut to allow the sound to pass through.  The headband of the earphones is wrapped in canvas with a leather padding for the top of your head. The adjustable headband allows you to go from medium to extra-large heads, but if you have much hair and wear an XL hat, you're probably going to be uncomfortable in these things.
The stitching and attention to detail on the headphones is really nice. The audio cable is wrapped in what I believe is a nylon mesh to help prevent tangling and add strength to your headphone's weakest point.
The earphones feature a decorative Marley metal sphere on the outside that I'm pretty sure is just a pretty housing for a screw that keeps the earphones tied to the headband, but it's a pretty neat look. They also come with a black canvas carrying case, which is more durable than I originally imagined.
I'm not sure if all the cases are paired with the headphones, or if you just get a black canvas case for each, but the case that came with these was black and matched fairly nicely, although it's a magnet for dirt, dust, and cats.
While I did not attempt to destroy these headphones, they did feel very sturdy and I did not have any reason to suspect they would break under normal use.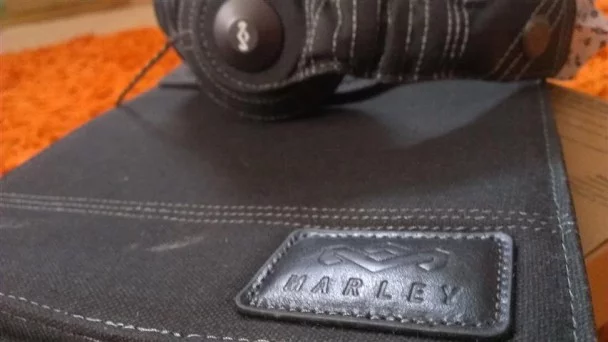 Features
Right-angled 3.5mm gold-plated audio connector

Recycled aluminum adds to durability, reduces waste
Recycled packaging
Unique sound signature
Fabric covered cord specially engineered to cut down on static
Three button remote with mic
Now, any sound engineer will tell you that the gold-plating on the audio connector is mostly a marketing gimmick. If you're attempting to produce higher quality sound via cabling, you'd need to run gold all the way through.
The fabric covered cord cutting down on static seems a bit odd to me, as I've never had static on an undamaged headset. My guess is that the extra protection prevents the wiring inside from becoming exposed and then grounding out on each other.
The three button remote with mic appears to be mainly aimed at the Apple crowd, or at least it's not particularly interested in working well with my HTC EVO 4G LTE. I can get it to pause and play, but nothing else. In theory, you should be able to answer calls and speak through the mic, as well as skip tracks and adjust the volume. Not with my phone, though.
Sound
Up to this point, I don't think there's not a lot to love about the headphones. They look good, they feel good (even on my enormous noggin), and the quality of the product shows throughout. Where you'll love or hate them probably comes down to their unique sound signature.
When I first plugged these in, I noticed they were absurdly loud for non-powered headphones, and I did not care for the bass at all. I fiddled around with my source's equalizer and killed Beats audio, which brought the bass into somewhat normal range.
I didn't like what it was producing for the low ends, though. I tested against some studio headphones from my neighbor, my Munitio Nines earbuds, my HoM earbuds, and a couple of random pieces of equipment I had laying about. In every case, I preferred the lower sound coming out of anything other than the Riddim on-ear headphones. Basically, I dislike the low end of these headphones, but the upper end sounded absolutely brilliant – and loud. I can't stress enough how loud these are.
The whole experience combined has this feeling that you're listening to someone's odd equalizer presets on the headset, and for my tastes and the music I listen to, it wasn't set right. I thought perhaps it was more designed for some of Marley's music, but it also didn't sound right to me. Then again, I guess if you've been listening to it incorrectly your whole life, then the correct sound might sound weird to you, but I don't know.
Wrap-up
When you get this headset, you're buying a look and a dream, and hitching onto an ideal. You pay for that ideal in a couple of ways here: first, with the price tag coming in an an MSRP of $149.99, these are not inexpensive headphones. Secondly, in my opinion, you get locked into someone else's idea of how the audio should sound.
For me, the audio profile on these is not where I want it. I know how the music I listen to is played live, and how it's reproduced properly later on my devices. These don't allow me to reproduce the music like I like it, although your preferences may vary.
But man do they have the look.
House of Marley sells the Riddim On-Ear Headphones directly on the web for $149.99.