How to change the PRL on your rooted HTC EVO 4G LTE – no computer required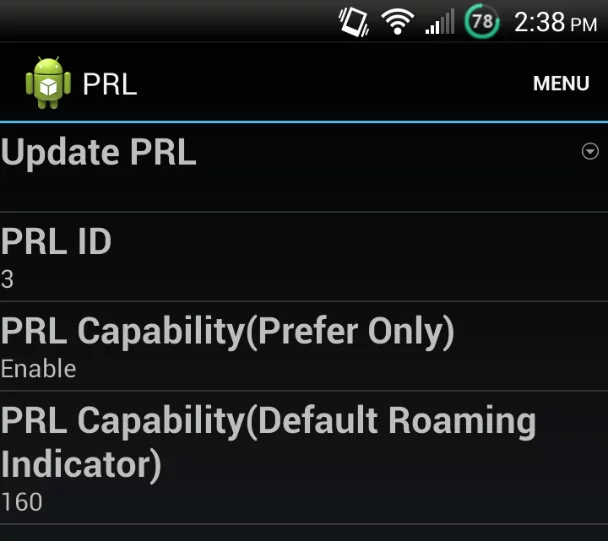 For the longest time after the HTC EVO 4G LTE was released, most people thought that the only way to change the PRL file on the phone was by connecting your phone to a PC running QPST or CDMA Workshop. Unfortunately, this meant that it was impossible to change the PRL on the fly, and a few users had trouble with drivers that ultimately prevented them from ever changing the PRL at all.
Luckily, if you want to change the PRL on your EVO 4G LTE, I have discovered a way to do it – no computer required. Just keep in mind that you do this at your own risk, and Sprint could cancel your service if you roam too much. Some have even questioned the ethics behind forcing your phone to roam all the time, but I'm not here to discuss morality – that's something you'll have to decide for yourself. I am only here to show you how, and what you do with this information is up to you.
But first let me answer a few questions.
What is a PRL?
PRL stands for "Preferred Roaming List," and it's the file in your phone that tells your phone which towers to connect to, in order of most importance, based on your specific location. Contrary to popular belief, it generally doesn't provide better reception or data speeds, because it can't actually make the connection to a specific tower stronger.
However, there are exceptions to this: a PRL file can force your phone to connect to 3G EVDO while roaming if it's available, and this is obviously much faster than 1xRTT. It can tell your phone to prefer Verizon roaming over Cricket. Or it can tell your phone to use Sprint's new SMR 800MHz service, if it's available. In all of these cases, the PRL actually can provide you with slightly better service than the stock PRL that came preloaded on your Sprint device.
Why would I want to change it?
Some people are happy with their Sprint service, and only want the ability to connect to 3G while roaming, since Sprint will usually force your phone to connect to 1xRTT instead. Others are fed up with Sprint, and want their phones to roam all the time. People who fall in the latter camp might do this for two reasons: either they just want better service in general, or they want Sprint to cancel their service ETF-free for excessive roaming.
It's no secret that in the past few months I've turned against Sprint. For the longest time, I was one of Sprint's biggest advocates (and I still get excited when Sprint makes new LTE announcements), but the coverage in my local area has degraded to the point where it's practically unusable. In spite of my former infatuation with Sprint, the honeymoon is over – and I'm starting to get fairly annoyed with Sprint's ridiculous marketing tactics, as well.
Admittedly, my love-turned-hate relationship with Sprint has gotten more than a few of you riled up, with some of you bashing me for bashing Sprint, and others sympathizing with the fact that I'm stuck in a contract that I'd love to break more than anything else, if only I didn't have to pay that pesky ETF. I'm still undecided if I want to try to get out of my own contract through excessive roaming, but it's best to lay my cards out on the table here.
Again, I am passing no judgement on those who choose to load a custom PRL on their own phones, and I'm not making any proclamations about the ethics of forcing your phone to roam all the time.
How do I do this on the EVO 4G LTE?
Make sure your phone is rooted – you will be editing the build.prop system file.
Using your favorite file explorer and text editor, navigate to your system folder, and open build.prop. Find ro.build.type=user and change it to ro.build.type=dev.
Reboot.
Find the PRL file you wish to use. If you are generally happy with Sprint service and just want the ability to use 3G while occasionally roaming, I recommend any PRL in the 56xxx series. If you want to permanently roam on Verizon Wireless, I recommend PRL 00003. More detailed explanations, along with even more PRL downloads, can be found here.
Place the PRL file in any file directory on your phone – it doesn't matter where you save it.
Dial ##778#.
Select Edit and enter your MSL code. If you don't know your MSL code, you can use an app like MSL Reader, or call Sprint and simply ask for it.
Next, select PRL > Update PRL, and wait for your phone to scan the file system. Select the PRL file you want to load on your phone, and press OK. Then press Menu > Commit Modifications, and wait for your phone to reboot.
Check to make sure the PRL change was successful by navigating to Settings > About > Software information. If the PRL number has not changed, repeat the steps above. If it still doesn't change, try redownloading the PRL, or try a different PRL.
Some things to note…
This might not work if you do not have S-OFF. With the latest hboot, changes made to your system directory do not always stick after a reboot, so your build.prop edits might be erased. Also, I am unsure about whether this will work with the new HTC One – if you've got the Sprint version and want to try it out, please report back your findings!
Finally, do this at your own risk. If you get booted from Sprint, and that wasn't your intention, don't blame me.