Quick Tasker tip: Stop profiles from showing as active in notification pulldown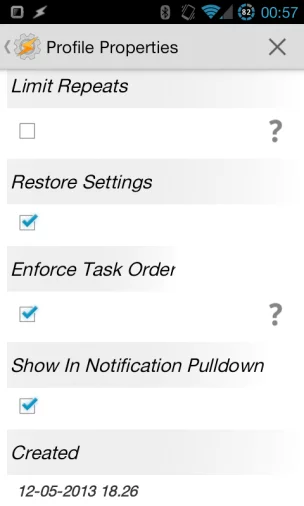 A feature of Tasker that's very obvious to some but has been completely overlooked by others is settings for individual profiles and tasks. Thee settings are paremount for some Tasker creations, but can be ignored for the majority of them, so a lot of people never discover them. One of the settings available controls whether or not the profile shows up in the notification pulldown when active, and using this option can help clean up things a bit.
Whenever you have aprofile that's currently active, the name will show on the Tasker notification in the notification pulldown. This is a useful feature to see what's active, especially if you have things like location of audio profiles that you want to make sure are actually enabled in certain situations. The more profiles you have, however, the higher the chance of clutter.
To prevent a profile from showing up in the notification pulldown, long click on the profile name in Tasker, and then tap the settings icon. There you will find an option called Show in Notification Pulldown, which is enabled by default. Unchecking this will stop the name from showing for that specific profile, but you have to do it for every profile you want to be hidden.
Not the most advanced of tips, but easily overlooked, and very useful to know about.