Rather than bring LTE to you, Sprint now tells you where to go to get it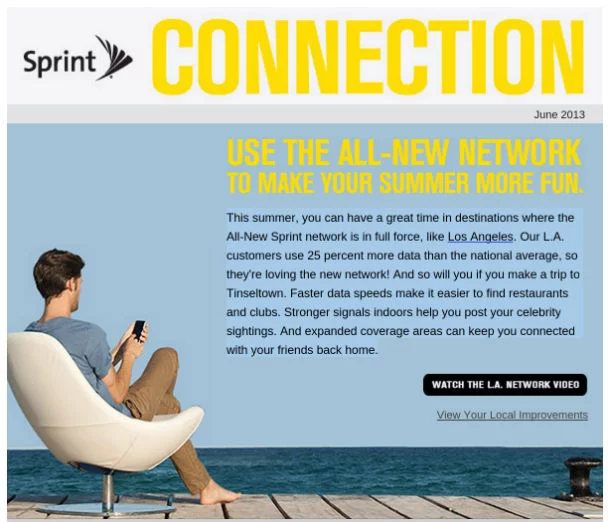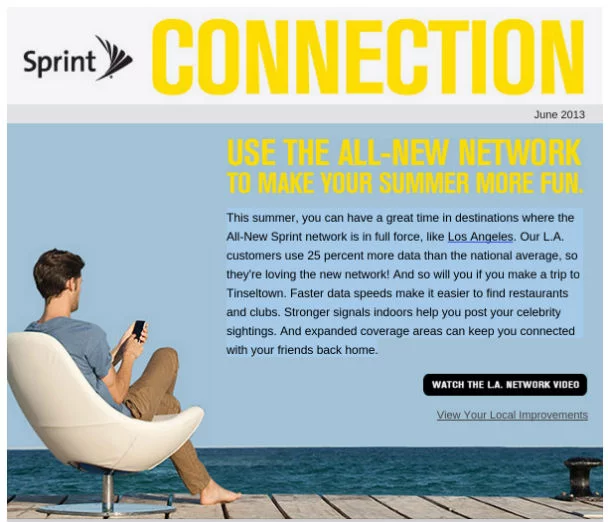 As most of us know by now, Sprint's 4G LTE rollout isn't happening quite as quickly as we had hoped. Network Vision is plagued by delays and setbacks, and there haven't been any new LTE announcements in almost two months. The network where I live, in central Illinois, has basically come to a grinding halt over the past month, but no known resolution is in sight.
Given all of this, I shouldn't be surprised to see what Sprint has now resorted to: rather than actually building out LTE where I live, or at least improving my 3G network experience, Sprint has decided to advertise where I can travel in order to experience LTE. I recently received this promotional email from Sprint, and I had to laugh:
Use the all-new network to make your summer more fun.

This summer, you can have a great time in destinations where the All-New Sprint network is in full force, like Los Angeles. Our L.A. customers use 25 percent more data than the national average, so they're loving the new network! And so will you if you make a trip to Tinseltown. Faster data speeds make it easier to find restaurants and clubs. Stronger signals indoors help you post your celebrity sightings. And expanded coverage areas can keep you connected with your friends back home.
I have never been to L.A. I'm not planning on going to L.A. this summer, although I'm sure it's a fantastic tourist destination. Perhaps most importantly, I don't want to be forced to travel literally more than halfway across the country, and spend several hundred bucks on a round trip plane ticket, just so I can see how LTE is working in L.A. Instead of bragging about how LTE is fantastic in a few big cities, why not bring it to my home "in full force?"
Maybe I wouldn't find this email so annoying if Sprint had at least announced a general time frame for bringing LTE to where I live. But not only have zero LTE announcements been made for my coverage area, but Sprint has refused to acknowledge the very real network issues in my town that cause me to routinely drop calls, receive busy signals when dialing out, and become disconnected from all data services – even 1x!
This latest advertising ploy is laughable. Sprint, stop sending me emails like this, and just get your network together.