Sprint might start cracking down even harder on data roaming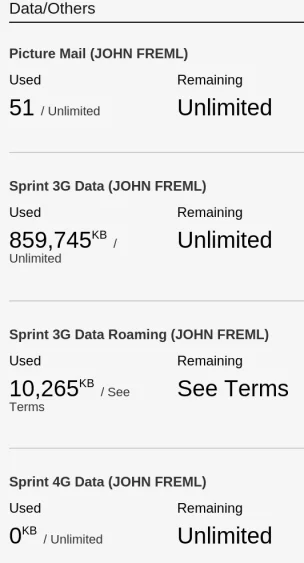 Today when I signed in to my Sprint online account to check out my usage on my HTC EVO 4G LTE, I noticed something interesting. Instead of displaying my 3G data roaming allotment as unlimited, it now says simply "See Terms." Could this be the start of Sprint cracking down even harder on data roaming usage?
To be sure, data roaming was never really unlimited. Sprint's terms and conditions clearly state:
Sprint reserves the right, without notice, to deny, terminate, modify, disconnect or suspend service if off-network usage in a month exceeds: (1) voice: 800 min. or a majority of minutes; or (2) data: 300 megabytes or a majority of kilobytes.
Still, on all of Sprint's newer Everything Data plans, roaming is included free of charge. Previously, when viewing your account information on Sprint.com, roaming was also displayed as unlimited. And there are many cases of people exceeding 300MB of roaming data month after month, with not so much as a peep from Sprint.
A quick Google search will reveal that Sprint usually only terminates service if someone is using dozens of gigabytes of roaming data month after month, and usually only after a warning letter is sent out. Could this be the beginning of the end of roaming abuse?
Many Sprint customers have loaded custom PRL files onto their Sprint devices that cause them to roam on alternate carriers permanently, in an effort to escape from Sprint's overloaded and congested 3G network. Others have installed apps like Roam Control, and only hop onto roaming when Sprint is unbearable. While Sprint's terms and conditions haven't really changed – at least as far as roaming is concerned – this change in verbiage is certainly enough to make me raise an eyebrow.
I'm not sure if Sprint will begin warning people as soon as they reach their 300MB roaming limit, or whether Sprint might start cancelling service even earlier for those who roam excessively. Anyway, if you're trying to keep your Sprint service active, I'd start paying closer attention to how much you're roaming, just in case.