Panel View for Google Play Music makes listening to music on Chrome OS much more enjoyable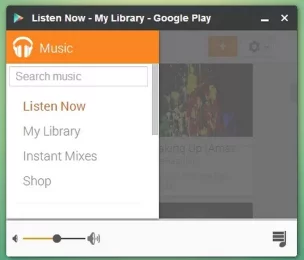 I recently stumbled upon a new extension for Chrome OS that does something extremely simple, yet totally awesome. Panel View for Google Play Music actually does just what the name implies: it opens up Google Play Music in a panel, instead of a separate tab or window. So yes, it's just a shortcut – but it is also much more than that.
While I've always been a huge fan of Google Play Music since it was first released, and I'm an even bigger fan of Google's All Access music subscription service, I haven't ignored its little annoyances here and there. On Chrome OS, one of the biggest annoyances is the fact that there is no packaged app. I don't like keeping a dedicated tab open all the time. I tried setting the app shortcut to open in a new window, but that caused my other windows to minimize, which I also didn't like. Panel View for Google Play Music fixes all these problems.
First, while it's not really a packaged app, the developer has actually added responsive CSS and JavaScript code to make it act more like an app running right on your desktop. Granted, you still can't pin songs to your computer for offline playback like you can on Android, but overall Panel View feels a lot more integrated into Chrome OS than simply navigating to Google Play Music's website.
Additionally, I like the fact that on Chrome OS, it opens as a panel, rather than a window or tab. If you're not familiar with the difference, it acts just like Google Hangouts does – it opens a separate window on the lower, right hand corner of your screen, and it doesn't cause your main window to minimize. The result is that, just like Google Hangouts, I can use Google Play Music without navigating away from my current tab. When I minimize it, the icon remains easily accessible next to the clock at the bottom of the screen. The experience is smoother and more cohesive this way – I can't really describe what a difference this makes, but it really does.
Finally, because Google Play Music opens in a smaller panel, instead of a full window, the actual navigation is closer to the Android app, with a similar expanding navigation drawer on the left. It feels nice to have a similar experience on both mobile and the desktop.
Please note: if you are running the stable or beta channel of Chrome OS, you have to enable a specific flag in order to get this extension to function properly. Navigate to chrome://flags, find Enable panels, make sure it's enabled, and restart your Chromebook. If you don't do this, the extension will open Google Play Music in a new tab instead, which completely misses the point here!
Download: Chrome Web Store