So far, 2013 has been a big disappointment to me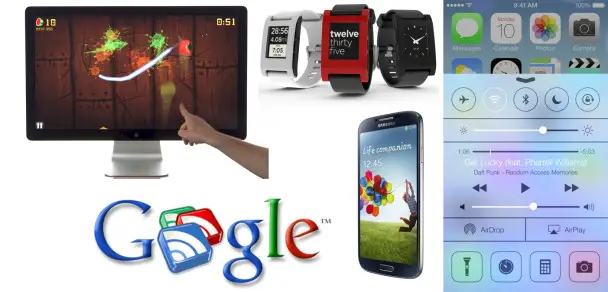 We're now more than half way through 2013, and while some of the most important tech months are still left in the year, I can't help but look back at what's happened so far and be greatly disappointed in what the year has brought us so far. A lot of new technologies were rumored and announced to launch this year, and now that they're here, few of them were worth the hype.
Let's start with Apple. I didn't believe the people who were so sure a new line of iPads would launch this spring, and certainly not those who said that a high resolution iPad mini 2 would be among them, and I was right. As such I'm not really disappointed in that as much as I hate to be right with things like this. iOS 7, on the other hand, now that's a disappointment! iOS 7 was supposed to revolutionize iOS, change the look and feel of an OS that hasn't change much since launch, and it did- just in the very wrong way. I've been apathetic about upgrading iOS in the past, but this time around, it's something I outright want to avoid- because I just think it looks horrible.
Let's move on to Google. Android is still on the same major OS version that it was a couple of years ago, with just minor releases since then that's still mostly limited to the absolute newest devices. That's not necessarily a bad thing, as I think Android works well the way it does now, but it doesn't exactly scream "the future is here" either. Then you have what Google has done wrong this year. If I'm to look back at what Google has done this year from my perspective, it ruined Google Play on Android, discontinued Google Reader, turned Google Talk into the most worthless messaging service I've ever seen, and then finished off by ruining Google Play in the browser. I know these things are subjective, but from my perspective, it couldn't have done a worse job if it hired a specialist group to sabotage itself.
That being said, Google has done two things I like this year. The first is Google Edition phones, which is a huge step forward in my book. Samsung in particular is ruining Android with its Touchwiz software in my opinion, and anything that counters that is very welcome. The second thing is the Nexus 7 that will be announced today, whose specs we most likely already know. If they turn out to be true, it will be the first Nexus device that interests me, although I generally don't care for Android on tablets.
Speaking of Android on tablets, man has that market turned into a massive disappointment. Last year was going to be the major move to 1080p displays on Android tablets, and while some tablets did, Samsung is still holding the market as a whole back by not making that jump. The Galaxy Tab 3 is pretty much the same as the Galaxy Tab 2, which is pretty much the same as the Galaxy Tab 1. The Note 10.1 and 8.0 aren't bad, but they're very far from being top of the line, especially when their main advantage is hindered by available software. Sony and Asus are doing a much better job, but don't have the position in the market- a position that Samsung is frankly abusing right now. Plastic tablets with two year old specs seems to be Samsung's entire tablet plan right now.
Like I said though, Sony and Asus are doing a better job. Sony's new Xperia line is impressive in many ways, from the tablets to the phones, and the chance is high that my next Android device will be a Sony. Waterproof devices, pencil stylus functionality, sleek and stylish bodies with good build quality, good specs across the line, and a focus on accessories has Sony popping up on my radar quite often these days.
On the accessory front, there has also been a couple of disappointments. I had high hopes for the LeapMotion, but now that reviews are out, it's not quite living up to expectations. I was also expecting to be able to order a Pebble and not be met by a pre-order message at this point in time, but as we're closing in on the first anniversary of the originally planned shipping date, that's still not the case. Smartwatches from the bigger companies have been rumored, but there's nothing concrete yet, with the exception of an update to Sony's smartwatch. Bluetooth 4 accessories have also been few and far between, despite the technology now being in more devices, making the market for accessories that can use its battery saving tech bigger- in theory.
Tasker has also been a disappointment. Last year, the app export feature was the big thing to come to the app, and there's been nothing like that this year. The new UI has taken up the dev's time for over half a year, and no new features like the promised UI overhaul has come out. Plug-in developers have been responsible for every major move forward for Tasker for way too long now, and Tasker is moving more and more towards becoming a very plug-in dependent app in order to keep up with how Android changes. On top of that, I'm currently fighting crash issues due to a fix to another crash issue caused by changes to the UI that I didn't want to begin with.
Finally, the big one: phones. Sony is really the only one that's impressed me this year, while the other companies have been fairly predictable. The Galaxy S4's is just a marginally upgraded S III with the same focus on plastic and junk software as before, but with a pointlessly high resolution screen. The HTC One looks nice, feels like a more premium product, but the camera makes it a dealbreaker for me. It was supposed to be revolutionary, but reviews haven't been good, and it makes one huge mistake in that 4 megapixels simply isn't enough for photos you want to keep. Pair that with the horrible battery life, and it's not even an option.
So, that leaves me where I'm at now. I've seen nothing to make me want to switch phones, nothing to make me switch tablets. I don't control my PC with air gestures, the smartwatch I have is not the one I thought I would have, I'm dreading the day iOS 7 comes out, and several Google products I thought I would love forever are now just gone. Call me pessimistic, but I thought 2013 would be better than this.