Change your phone forwarding based connection state with GrooVe Forwarder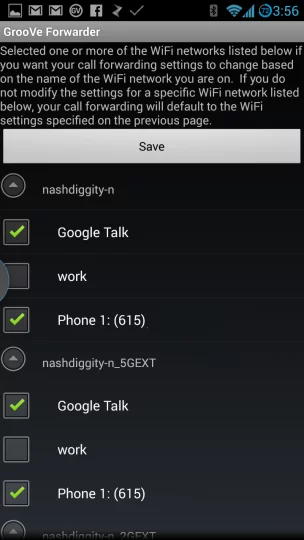 GrooVe Forwarder is an application that works in conjunction with GrooVe IP (an application that allows you to make and receive calls via WiFi). It does one really neat thing in allowing you to select where your phone forwards, based on what the connection state is.
Connected to work's WiFi? Turn on forwarding to your desk phone and turn it off to your cell, if you're so inclined. Entered your home WiFi? Turn off work forwarding and enable the home phone. Out and about on LTE and don't want your home machine or work computer playing Google Voice's rings? Turn off forwarding to Google Chat off whenever you're not using IP phone capabilities. Working in a bunker today? Don't even bother ringing the cell phone number.
While all of these forwarding scenarios are available to anyone who uses GrooVe IP and Google Voice, setting them manually is annoying and might not be possible in some instances where you get a bit of WiFi and then nothing throughout the facility (think hospitals).
You can also configure settings based on whether or not GrooVe IP is signed in or not, as if there are issues with the back-end network, your password, etc, there's no reason to go missing phone calls.
Due to my current network situation in Nashville I find that GrooVe IP (or an Airave) is required in order to even make phone calls from 5:20-6:40, so until this horrible Sprint tower that's been messed up for weeks comes out of the red (whatever that means), I've become a power GrooVe IP and Airave 2.5 user – and Groove Forwarder makes things significantly less annoying.
GrooVe Forwarder is a paid application and available from Google Play for $0.99.
Download: Google Play