Evervolv nightlies bring Android 4.3 to the original HTC EVO 4G, EVO 3D, EVO 4G LTE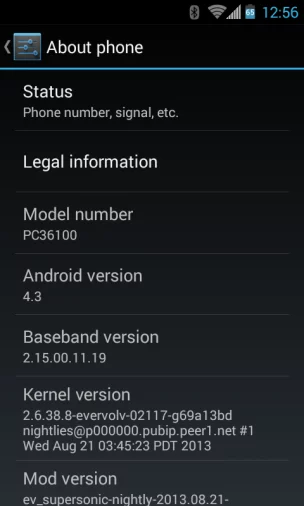 Evervolv is an open source custom Android ROM that always seems to amaze me when I run across the amazing things it has done for my older HTC EVO devices. Sometime rather recently, the developers brought Android 4.3 Jelly Bean to the original EVO 4G (Supersonic), the EVO 3D (Shooter), and the EVO 4G LTE (Jewel), along with a host of other devices. They also make nightly updates, should you want them.
Evervolv also comes with a set of specific items you won't find in other ROMs, like the Evervolv Updater and Toolbox. The updater can be configured to check for updates at any interval, and it also can check for GAPPS package updates, which is pretty useful if you just put the ROM on the phone and forgot to download the correct GAPPS to get Google Play and related services, or just don't know which one to download to make everything work properly.
The lock screens can be configured from the Jelly Bean style down to Gingerbread; Superuser access is built in (although I confess in my poking around to have not found where it's configured); and the thing does pretty good on my old EVO 4G, I think. It's a tad slow, but I may just be completely spoiled from a phone that's 300% faster. Over- and under-clocking is built in, and most sensors and radios seem to work right out of the box. Although I could not test out the EVO 4G's WiMAX, it did work in older versions.
GPS, Bluetooth, compass, WiFi and camera worked with no issues, although the front facing camera did not seem to want to appear for me on the original 4G.
If you're interested in trying this out, go ahead and make a nandroid backup of your current setup, head over to Evervolv, find your device/get the nightly for it, factory reset as the scripts in at least the EVO 4G nightly don't wipe the data (I learned that the hard way), flash, and either flash an appropriate 4.3 GAPPS package, or go into the ROM and download one through the toolbox. I tried a couple of 4.3 packages and none of them seemed to want to work quite right.
It's a pretty sweet little ROM, made all the sweeter by being a full two Android versions past end of life (the EVO 4G). It'll also breathe new life into newer devices, but mostly I was amused that my old EVO could still run current software.