Getting your phone in shape for Labor Day Weekend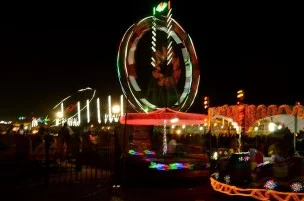 Labor Day weekend  is one of the busier travel days in the United States, with more than 34 million Americans expected to be traveling over the next three days. With so many people moving around, and so many recent updates to the tools we use to map, travel, and communicate, there are some things you might want to consider before you hit the road.
Grab a secondary mapping application
So you're a die-hard Google Maps fanatic. So am I, even with this last update. However, Google has so far been down twice in the past month for unexplained reasons in my area of the US, so I now plan for Google Maps (and all Google services) to be offline right when I need them.
Pre-cache your route in Google Maps
Just because you have excellent service here doesn't mean you'll have any service on the road, and unfortunately offline navigation is still not quite there without pre-caching. Google Maps 7.0 changed how you chose to pre-cache an area: instead of long-pressing and choosing to cache the area, you now zoom to an appropriate level and type "ok maps," to have it cache everything you see.
It's significantly less graceful than the pre-cache used to be, but Google decided it was time to mess with people, because the words "ok maps," obviously mean "ok maps, I would like you to pre-cache the area that is currently on the screen." Sarcasm tag close. Generally you only need to cache the areas you know are going to be tricky. Since I usually end up in the mountains on winding roads with no cell after hours of driving, I only cache the last parts of my trip.
Switch texting options
If you're using Google Voice or some other Internet based texting solution, switch back to standard over the air before you leave. If you end up in an area with no data signal, you can end up unable to retrieve your text messages.
If there's no internet issues on the way or on the other end, just switch it back – bam.
Modify upload/sync options
If you're like me, you've got Google+, Facebook, maybe Dropbox. And whether you remember ever setting these up, most of them include the option to sync photos. While syncing is great in case something happens to your phone, syncing to multiple services uses a lot more juice than just syncing to one.
If you're on a horrible cell connection, you could spend several minutes of air time to attempt to upload just one picture. That's a lot of juice that you might have wanted to take more photos with, used the phone, etc.
Disable sync
That's right, turn that sucker off. Manually check for emails, tweets, and Facebook status updates. You'll save battery life and not be that person on vacation with the beautiful scenery obscured by a phone.
Read John's 3G tip
If you're at the edge of signal and keep fading in and out, and you would actually like to use 3G, John has the solution for how to force 3G to stick.
Don't update software
Is it working now? Good. Leave it. The next version of whatever you're looking at could take your phone and turn it into a battery-eating hog, or break whatever game you might be playing. We all want updates, but if your phone works now and you require it and are not going to be near a computer for a few days to search for why it suddenly turned into a horrible slow lump, don't update anything before your vacation.
You can update it when you get home.
Don't expect your phone to work
Seriously, these things fail all the time. From batteries dying, to lost phones, to no cell coverage,  to ISP failures, etc. Buy a map or print out a route, and if the phone dies, you're prepared.
Grab an IP phone application
I've been in towns where I have WiFi, cable, beautiful scenery, and absolutely no cell signal. As I've been on-call 24/7 for the past 13 years straight, I'm required to be accessible within a couple of hours. To these ends, when all else fails, GrooVe IP does it for me.
If you're not worried about phone calls during vacation, skip this. You only need it if you're under contract, or have a bad case of FOMO.
Clear the SD card
Make space for your photos. Copy old ones off to a computer so you don't end up low on storage and attempting to clear out ones you don't care about while standing in front of the greatest scenery of all time.
Check your picture resolution
Do you really need to take a picture at 13mp, 21mp, or 42mp? Probably not. Crank your camera down to reasonable. You don't have to drop it to 640×480, but in general middle-ground is more than acceptable, uses less space, costs less (in battery terms,) to save and upload.
Throw the phone away and buy a map and an ax
It's a vacation – don't let your phone turn it into a frustration. The more time you can spend ignoring it, the better.
Have fun, be safe this Labor Day, and to all the DragonCon peeps, I wish I could have made it!