It's been three weeks since Google's latest Chrome gadget – the Chromecast – arrived on my doorstep. Since then, I've been enjoying my three months of free Netflix almost every day, along with Google Play Music and YouTube. I've also been streaming content from my Chromebook Pixel and my partner's Windows 7 laptop through the Chromecast, too. I haven't been hacking or tinkering with it, but instead am using it just like anyone else would. Therefore, I can give you an honest review, highlighting all the things I absolutely love about the device – along with a few things I'd change.
But first, to recap, the Chromecast is Google's latest foray into the living room. It's a $35 dongle with immediate compatibility out of the box with Netflix, YouTube, Google Play Music, and Google Play Movies & TV. Rather than streaming content directly from your phone or tablet, it automatically works with these existing apps and turns your phone or tablet into a remote control, with the Chromecast itself doing all of the streaming. However, you can still stop, pause, fast forward, and rewind from your mobile devices – or simply browse the web or do other tasks.
Google also has a Chromecast extension for Chrome OS and the Chrome browser that can mirror a specific tab, or your entire desktop. More on that later.
Unboxing
In case you missed my unboxing from a few weeks ago, you can relive the excitement above. Suffice it to say that the Chromecast arrives in a very simplistic box, with everything you need to get started, including an HDMI adapter (if you don't want to plug the Chromecast directly into your HDMI port on your television, or you can't for whatever reason), a micro-USB adapter in case your specific HDMI port can't power the Chromecast, and an regular plug in case you don't have any USB ports on your television to power the Chromecast.
For some people, depending on whether or not you have a newer version HDMI port on your television that can provide enough power to the Chromecast, it's as simple as plugging it in. For others, Google really went to the extra mile to make sure that everything you might need for your particular setup is provided in the box.
Setup
The Chromecast was incredibly easy for me to set up, although I have heard of some issues depending on the way certain users' WiFi networks are designed. For me, it was simply a matter of plugging the Chromecast into a free HDMI port, connecting the USB cable to my TV's USB port and plugging it in to the Chromecast too, and changing my input. (As you can see above, I've actually got the Chromecast plugged into an HDMI adapter, since all of my TV's HDMI ports were already in use.)
Then, I downloaded the free Chromecast Android app from the Play Store onto my LG Nexus 4 and ASUS Nexus 7. (There's also an app for iOS.) Finally, I simply followed the on-screen instructions to get everything up and running: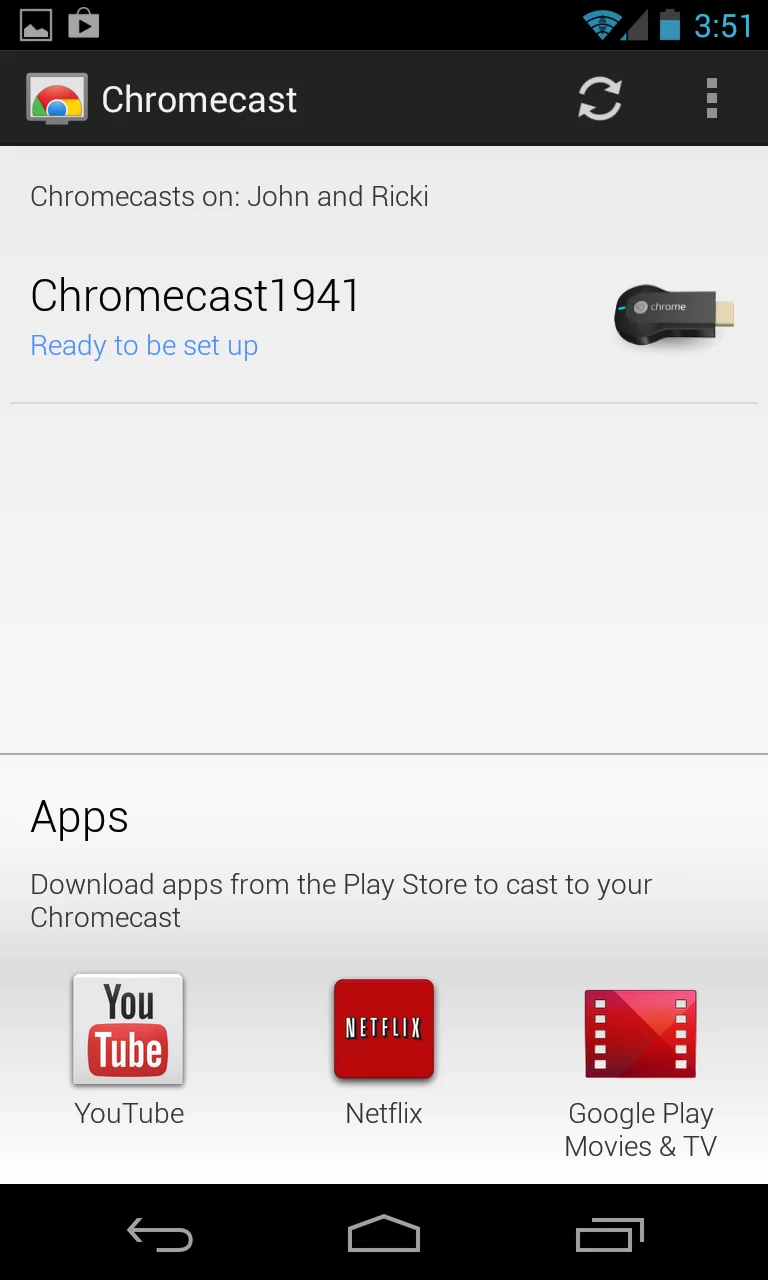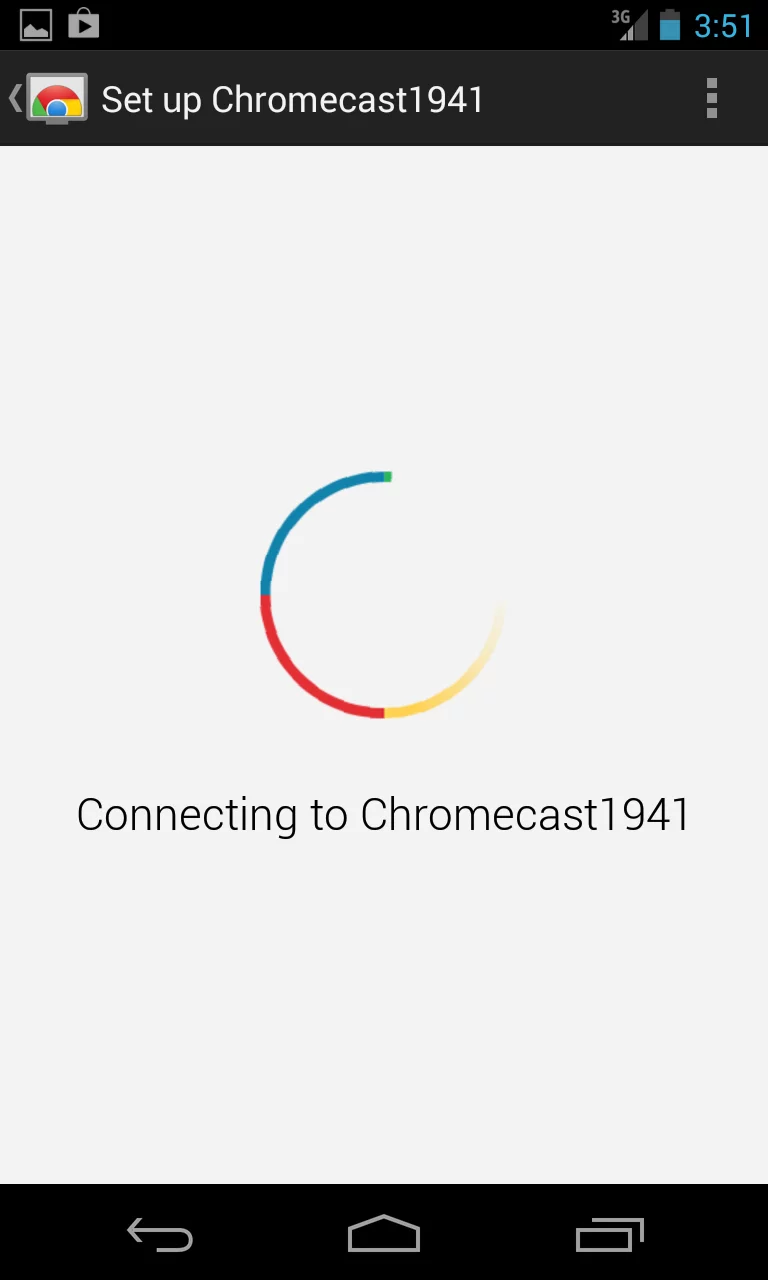 It was really that easy! Google also provides a website for setup, in case you don't want to download anything to your phone. I haven't used it myself, but I have heard that some people run into problems when setting up the Chromecast this way. Since it's so easy to set up using the mobile app, I'd recommend just downloading and using it.
Performance
Even though I now have three different ways to watch Netflix on my living room TV, the Chromecast has become my default. My partner and I can sit together on the couch and both control Netflix from our own phones at the same time, and response times are very good – it truly does feel like a real remote control when pausing or rewinding, as it doesn't have the lag that some similar apps do. It works similarly well with YouTube, with the added bonus that we can both add videos to a communal playlist, even from our different Google accounts.
I like the fact that this just works with existing apps – you don't have to download a different Netflix app, or learn a new interface. As long as you're connected to the same WiFi network as your Chromecast, Netflix (and YouTube, etc.) will automatically recognize that and give you the option to cast your video to your TV.
One nice perk is that you can turn off your phone or disconnect from the WiFi network, and Netflix, YouTube, or Google Play Movies & TV will continue playing without any issues. Google Play Music, however, seems to need to maintain a constant connection to the device – if my phone disconnects from the Chromecast for any reason, Google Play Music won't play any more songs once the current one is finished.
Another perk is that, depending on your setup, the Chromecast has the ability to turn your TV on once you start casting something. You can also adjust the volume of your Chromecast from your phone and tablet. Some software teardowns of the Chromecast also reveal that Google is working on more ways to control your TV, as well, so your phone or tablet could become even more of a remote control.
I also really like the Chromecast Chrome extension, which lets me mirror my entire desktop, or just one tab, to the Chromecast. I've used this to watch videos from sites that don't yet officially support the Chromecast, like Hulu, and it works surprisingly well. Your mileage may vary, though, based on your PC's specs.
I have noticed that sometimes my devices don't detect the Chromecast, even when connected to the same WiFi network and the Chromecast says, "Ready to cast." This is probably a problem with my cheap Belkin router, and not the Chromecast itself, as the same thing happens to other devices on my network periodically, too (sometimes my computer won't recognize my WiFi printer, or my Roku Android app can't find my Roku). A quick router reboot usually fixes the problem right away.
However, Google has released several updates for the Chromecast app and the Chromecast itself, which supposedly help with detection on WiFi networks. It's nice to see Google refining this and making it better.
What I would change
I've knocked off one star, because the Chromecast isn't yet as polished as it could be:
There needs to be more app support, like Hulu and HBO Go. This is in the works, but Google might have jumped the gun and released this a bit too early; perhaps it should have waited until it had more content partners on board.
The Chromecast gets hot when plugged in for a long time. That's understandable, given that it's actually doing most of the work itself. Google also says this is normal, but I still get worried when my electronics produce so much heat. (My Chromebook Pixel does the same thing, though, and I still love it.)
You can cast Netflix from the desktop site on Windows without using the Chrome extension, but you can't do the same from Chrome OS. Google is aware and is working on a fix, but this seems to be a pretty major oversight.
You can't cast Google Play Music from the desktop, unless you cast a tab from your Chrome browser. This also needs to change.
Unlike Netflix, YouTube, or Google Play Movies & TV, Google Play Music stops working once your phone or tablet disconnects from WiFi.
The Chromecast extension works great on my Windows 7 laptop and my Chromebook Pixel, but users have reported less than stellar results when using cheaper Chromebooks (like the Samsung ARM Chromebook) or netbooks. The ability to cast tabs is still in beta, but Google has a lot of optimizing to do until this can become more widely used and enjoyed.
These are all things I can live with, and I think Google has even more plans in the works to make the Chromecast a killer gadget for the living room. I love my Chromecast and use it everyday, and I can't wait to see what's next.