Hidden Android 4.3 feature: Individual app permission control is now available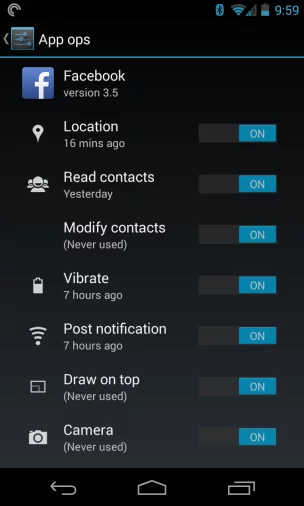 While custom ROMs and root-only mods have long offered Android users the ability to control individual app permissions, this hasn't been available in stock Android … until now. Hidden deep within the settings, App Ops lets you selectively disable permissions for your apps with absolutely no root required.
To access this setting, you'll need to do some digging. Here are the two best options:
Using an app that can launch activities (like Nova Launcher or QuickShortcutMaker), pick "Settings," and then "App ops." Some apps will allow you to simply search for the "App ops" activity, and launch it directly from the search results or create a shortcut on your homescreen.
If this is too much work, a developer has already published an app to Google Play that will launch this automatically for you. It's called Permission Manager.
It's important to remember that Google doesn't think this feature is ready for prime time quite yet, which is why it's hidden and such a pain to get to. However, in my own testing on my LG Nexus 4, I haven't run into any problems. In fact, I really like what Google is doing here.
When you open it up for the first time, you'll notice that your apps are sorted by "location," "personal," "messaging," and "device," so it's easy to see what app uses the permissions you're concerned about. There's also a timestamp that displays when the app last used a permission. Selecting an app brings you to a screen with easy on/off toggles for each app.
This will be great for controlling apps that might try draining your battery by constantly polling for your location, or even for apps that just require too many permissions in your opinion. Just remember what you change here, though, since it's now even easier to break some apps if you don't know what you're doing.
[
Android Police
] 
Thanks, Bill!