HTC EVO 4G LTE vs HTC One, round 5: speaker, feel, root
This is probably my last installment in the series pitting the former Sprint flagship HTC phone (the EVO 4G LTE) against the current HTC flagship phone (the One). While I was not able to do all the testing that everyone might have wanted with my limited time with the One, I did enough to decide that I'm not ditching my EVO 4G LTE just yet, although I do consider the One a marked improvement in hardware over it's predecessor.
Speaker
The One comes with a speaker configuration called BoomSound. I listened to the same song a few times on both the One and the EVO. The One manages to make the EVO sound sort of like a cheap AM radio, although BoomSound doesn't exactly sound stellar in terms of audio reproduction to me, either. If you're listening to your music without a headset of some sort, BoomSound on the One is the way to go in terms of phone audio, although it's still not as good as an entry-level PC speaker and can't compare to any wired headphones in terms of overall reproduction.
I will say this, however: If you want to be woken out of a dead sleep by an EAS alert, BoomSound will do that for you. It's pretty loud in terms of a phone speaker. HTC claims it's loud enough to attract a crowd, but from what I experienced that crowd would need to be not talking and within 50 feet.
Feel
I thought the One's body was entirely aluminum, as HTC advertises a sleek aluminum body. The great body build has been a main selling point for the One, but unless you claim that the side of the phone is not the body, or I have an aberrant version of the phone, the HTC One is not entirely screen and aluminum. It's maybe 1/12 plastic, 5/12 screen, 1/2 aluminum.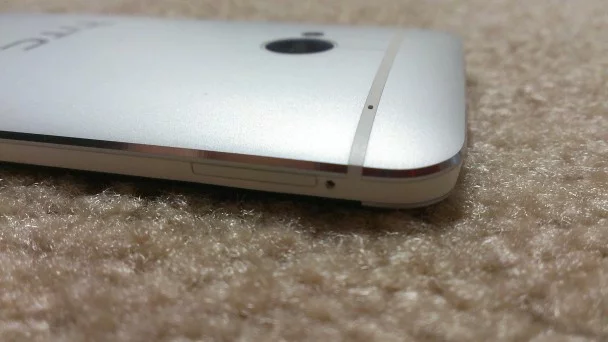 It's not a lot more than a metal backplate, unless this stuff on the side is some sort of plastic-like aluminum I do not know about.
I'll spare some details here, but short of it is the sides of the phone slip when the aluminum doesn't, and I generally hold my phone by the sides since holding the back usually involves holding the screen as well, and putting fingerprints on it.
I'll point out that the pictures on HTC's One website tend to show a grayish looking side which sort of would indicate to me aluminum, and my One has a more light beige-plastic look.
What's really odd is that the HTC EVO 4G LTE has an aluminum side, and it's great: your fingers don't slip, although they do on the cheap plastic fingerprint-grabbing top.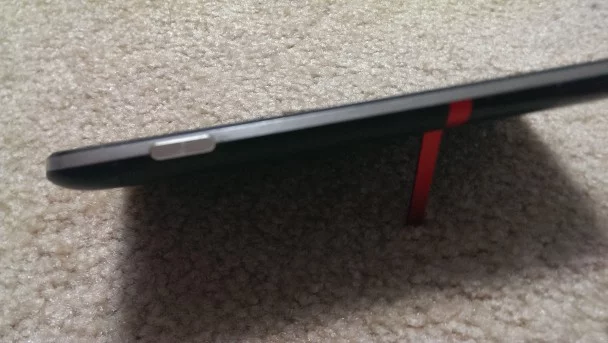 The One also has this nice curved back which makes it look extremely pretty, and also makes it death to a pile of phones at bar trivia. Don't stack other phones on it. Lesson learned.
The lack of a kickstand and a camera button make operating this a bit clumsy to me, but I'll probably say that about any device. Once you go EVO, it's hard to escape the need for these things.
Root
While I haven't rooted the HTC One, I can compare the One to the EVO 4G LTE by development ROMs I can locate. On the Sprint version of the One, I can locate 13 Sense-based ROMs, and 13 AOSP/AOKP ROMs, of which only about 15 could be considered active. With the EVO 4G LTE, we've still got about the same ratio of active, plus a score of inactive but workable ROMs.
While the EVO 4G LTE community isn't as active as the EVO 4G community was back in its day, it still enjoyed a bit from the original EVO's development crowd.
Software
I'm not a fan of HTC's software except the camera; that they got right. The One's camera software excels. One thing to note, though, is that software can be ported to another Sense device, assuming it's rooted and the drivers are available, which HTC is notorious for not releasing.
Wrap-up
I enjoyed the Sprint version of the HTC One. My opinion is that, for the average photographer, it's got a better camera and editing system. For everyone it's got a better speaker, and it's the exact same in terms of ability to move data on and off the built-in storage, so boot and install times are the same.
The One rules in terms of CPU power, but the slowest-component rule applies here (if you can't get data off the storage to the CPU any faster, you're not going to see marked improvements). This is evident when loading games, but not so much once they're running. I'm also assuming the root flashing experience would be about as slow as it is on the EVO 4G LTE.
I'd consider upgrading my wife's EVO 3D to this, as it's quite a piece of work and we could use more non-blurry baby pictures, but the EVO 4G LTE for the moment suits my needs.