Jabra FREEWAY wireless Bluetooth in-car speakerphone review
The Jabra FREEWAY is a hands-free car speakerphone that connects to your phone via Bluetooth and has a built-in FM transmitter that allows you to stream calls and any phone audio over your car stereo or via the built-in speakers. The FREEWAY mounts on your sun visor, and using motion sensor technology, it turns itself off when your car is not moving and no Bluetooth device is connected. This allows it to have about a 40 day standby time, along with its 14 hour talk/music runtime.
Jabra FREEWAY in action
First off, the audio that the little speaker gives off is impressive. It's got three speakers packed into the wallet-sized speakerphone and claims to have virtual surround sound. I couldn't really verify the surround sound aspect, but it does have pretty nice stereo separation if you're seated beneath the thing.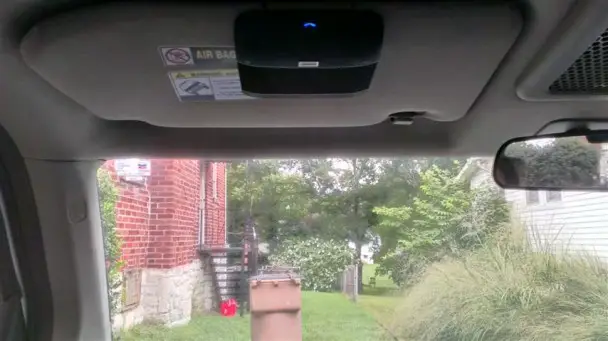 As most of my friends who are willing to put up with an audio quality test have cell phones, and I was calling over a series of known degraded towers in my neighborhood, the audio sounded a little like the comms on Battlestar Galactica. I verified by disconnecting the FREEWAY that the fault was indeed the towers and not the FREEWAY, but this left me with most of my audio testing being forced. Eventually I drove somewhere with a good tower and left myself a message on my work voicemail, and it was as clear as my cell phone's audio if not slightly better.
One friend remarked at one point that the audio suddenly sounded a bit tinny while two very large trucks were making serious amounts of noise next to me. We blamed that it on the trucks, and declared that a win for the dual-mic noise-cancelling aspect of the FREEWAY.
Jabra FREEWAY feel
The FREEWAY functions like one big easy button. There are more, but you'll only be dealing with one other on a regular basis. This makes voice calls remarkably simple – reach up, press the right side of FREEWAY (voice button), say "call so and so cell," and it will read back to you who it thinks you want to call. If it's right, you say "OK." Pretty simple.
There's a corner you can press for FM which will start broadcasting on the last FM station you had it set to. You can tune this to a different station by simply holding the VOL- or + buttons and it will tell you what station it's on now. It has an auto-seek free station, so you can play around until you find what works for you.
The volume that the FREEWAY puts out is enough for pretty much any average-noise vehicle. I'm pretty sure even with the windows open and doing the speed limit on the interstate you could hear what the other party is saying and vice versa. There's also a mute button for when you're talking behind the person's back.
What's in the box
Jabra FREEWAY
Car outlet to USB power adapter
4-6 foot USB to microUSB cable
Voice commands
One of the neat things about the FREEWAY is the voice commands. You can pair a new device, check the battery levels, and start up the music player on your phone, all with the tap of a button. You can also redial the last number you dialed, call back the last incoming call, or activate phone commands on your phone assuming your phone supports them.
Jabra FREEWAY FM fail
The FREEWAY works flawlessly in most vehicles for FM transmitting. Mine unfortunately is not one of them, although this may be due to Nashville seeming to have every other radio frequency occupied. I went through most of the supposedly free spectrum, and the audio comes out ok, but not great.
Moving the FREEWAY closer to my radio fixes the issue, but that's not really a great solution for me. This is on a factory stereo in a Honda Element, so your mileage may vary.
Phone fail
Something I had not considered when initially testing this was that when using Google Voice there's no way to auto answer if you have your phones forwarded to more than one number without pressing the keypad. That's an issue with me and Google Voice though, and not the FREEWAY.
Other neatness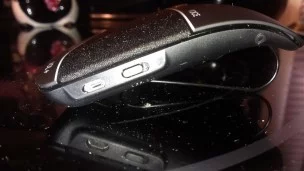 The FREEWAY has an HD Voice capable microphone, so if your carrier gets around to implementing HD Voice, it's supposedly ready. I have no way of testing the quality on that, sadly.
You can pair up to two devices with the FREEWAY, which is pretty useful if you swap cars out with a loved one on a regular basis. The FREEWAY turns itself on via motion sensor (or tapping the buttons), and off when the Bluetooth device it's paired with goes out of range.
There are spoken instructions for pairing your device with the FREEWAY, so if your manuals get soaked in baby formula, there's a spoken-word version of them available right at the device. If you've paired multiple devices and need to pair another though, turn the FREEWAY off, hold the Answer/End button, and turn it back on.
Totally unrelated but a neat use nonetheless
The FREEWAY, combined with NFC Task Launcher, has solved an issue that used to plague me. This issue is walking out of my house or work, and having a now-dead WiFi connection linger because the HTC EVO 4G LTE can hear the WiFi but it can't speak to it through glass, brick, steel, and 300 feet.
With the task launcher, I now set it to kill WiFi when it pairs to the FREEWAY, which can be accomplished just by tapping the device. With NFC Task Launcher and a this (or an NFC tag, or a geofence, etc.), you can even make the FREEWAY trigger driving mode, turn GPS on, etc. That's pretty useful if you want your phone in car mode the instant you're on the road.
Wrap-up
This thing is great if you need hands-free, which is a requirement in several states these days. The audio quality seems as good as the phone and cell can handle. I'm a little saddened by the lackluster-sounding FM, but that seems vehicle specific.
The Jabra FREEWAY Bluetooth Speakerphone is available from Amazon for $73.57;  however if you don't care about the packaging or newness you can get it for  under $70. MSRP is $130, so the price is either really good or Jabra overestimated demand.