Quirky Pivot Power Junior review
The Quirky Pivot Power Junior is a US-plug standard power strip that is designed for plugging in large, unwieldy brick adapters. It also looks rather neat, as it conforms to other object's contours.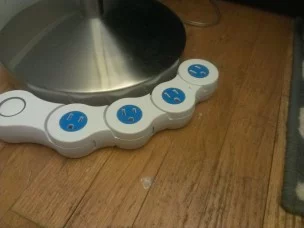 Beyond that, it's a bendable power strip. There's not a significant difference between this and any other power strip on the market, other than this can save you some space and can look nice when laid out around a lamp base (such as in the picture on the right).
At it's most extreme bend, the Pivot Power Junior can almost make a perfect U shape, which is required if you've got huge biscuit block adapters to plug in next to each other. The plugs are spaced farther apart than a standard power strip, which makes things pretty easy to plug in. However, if you've got massive biscuit block adapters like I do, then you have to get creative with anything you do.
Pivot Power Junior in use
One of the things I found I didn't like about the design of the Pivot Power Junior was the plugs: while they rotate slightly with the segment they're attached to, they will not rotate in-socket. This leads to interesting shaping requirements when you're dealing with a bunch of quirky adapters, such as my massive Labtec adapter, my Airave plug, my router's adapter, and the USB-2 hub power brick. These four adapters took up an eight-socket power strip by themselves, with one of the blocks laying over the power switch. While the Pivot Power Junior managed to handle that, it still required some arching to make it work.
Additionally, the four-socket Pivot Power Junior is a good inch longer than my $4.99 generic six-outlet power strip, so you would think there would be no requirements to bend – at least in my case there was, though.
Wrap-up
The Pivot Power Junior is a fine little power strip, but it does not pivot quite enough to make it amazing (such as being able to bend completely in a circle). With the increased size and decreased plugs over a standard outlet strip, it really doesn't save space.
It is, however, the strip to have if you want to wrap around the couture of a lamp base or other rounded base. If you don't have a rounded or oddly shaped place you need a power strip, this probably isn't for you.
The Quirky Pivot Power Junior is available for $19.99 from Amazon.