8GB LG Nexus 4 is sold out and not coming back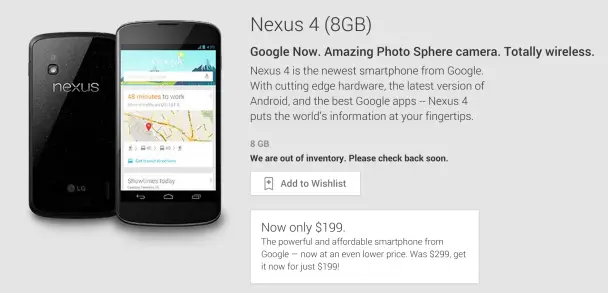 The LG Nexus 4 on Google Play is currently sold out, and sources from Google have confirmed to The Verge that it's not coming back. As you recall, it was only recently reduced by $100 down to $199, along with the 16GB Nexus 4 going down by the same amount to $249. This made both devices a steal, considering they're unlocked and contract-free – and still quite competitive in the specs department. Since they're also Nexus devices, they're guaranteed to get the latest Android OS updates directly from Google, too, at least for a couple more years.
However, this shouldn't come as much of a surprise. Given the timing, it seemed obvious to me from the beginning that once Google's current stock was gone, it wouldn't be replenished. We are probably only a few weeks away from a new Nexus phone announcement, and some rumors indicate that we might even get two new Nexus phones – maybe a Nexus 5 from LG, and a refreshed 4-inch Nexus from Motorola.
All of this is just speculation, of course, but it's certainly starting to get very exciting in the Android world. Naturally, if you still want to snag a good deal on a 16GB Nexus 4, now is the time to act – they're still in stock, but probably not for much longer.
[
The Verge
via
Android Police
]