Enjoy the Breaking Bad finale with Nyan Heisenberg live wallpaper and more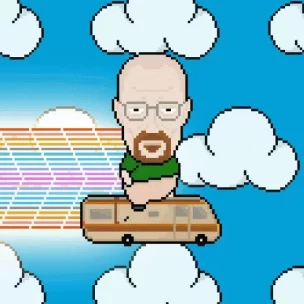 Live wallpaper is not generally the stuff I'm interested in writing about, but when you combine Breaking Bad, Nyan Cat, 8-bit graphics, and Android, you've got my interest. And that's precisely what this spectacular live wallpaper does.
I'm rather ashamed to admit how much time I've wasted snickering at Walter White (aka Heisenberg), the meth-manufacturing star of Breaking Bad, riding on a flying mobile meth lab trailing rainbows, but there it is.
With the end of the series airing this Sunday on AMC, what better way of showing your love of the show than an animated joyfully/joylessly bounding meth manufacturer on a Winnebago under the icons on your home screen?
If you're looking for some more ways to express your devotion to the show, there's a top five list for fans of Breaking Bad that includes a bald booth to make you look like Walter White, a chemistry tutor, Breaking Bad soundboards, a game, and a book about the series. They also have the live wallpaper, but I found that one on my own.
The live wallpaper does what live wallpaper does: it eats up battery and eventually will become an annoyance that you disable – this one especially, as every time you look at the phone you'll either have the Nyan Cat soundtrack stuck in your head or the Breaking Bad theme. However, for a few days it's good for a laugh until the probably horrifying conclusion of the epic AMC series.
Download: Google Play