Flashcast allows for fairly easy rooting of Chromecast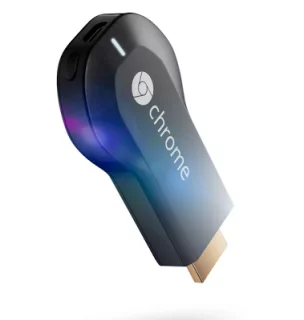 Flashcast is a USB image that you can use to root an un-updated Chromecast device running a vulnerable bootloader using a USB OTG cable and a 128mb USB stick.
It requires a factory fresh or non-updated Chromecast dongle, a powered USB OTG cable, a USB stick of 128MB or higher that you don't mind formatting, and a computer to transfer the Flashcast image to the USB stick using dd on Linux, or Win32DiskImager on Windows.
After downloading and writing the image onto your USB, you simply connect it to your Chromecast via the powered USB cable, hold the button on the Chromecast next to the USB connector, plug power into the USB OTG cable, and viola! Assuming you're running a firmware version that's exploitable, you'll be rooted in no time.
After Flashcasting, you can push new rooted and updated firmware without worrying about Google being able to push a new update and destroy your rooted endeavors.
Unfortunately this only works at the moment on Chromecast devices with the original insecure firmware, as no root exploits for newer have been produced yet. So if you've connected your Chromecast to the internet for any amount of time, you can kiss your chances of being able to root it goodbye. At least for a while.
Since the Chromecast is still pretty much in early beta and firmware updates are coming fast and furious, it's doubtful there will be too much effort expended by the root community to break the latest beta firmware out there. So if you're anxiously awaiting that, you might want to lower your expectations until a finalized SDK and an exit of the the beta stages happen. Or pick up another Chromecast with an insecure bootloader and go to town on it. I do not think they're shipping with updated firmware at the moment, but I've been wrong before.