FYI: Sprint's old Everything Data plans are still available if you dig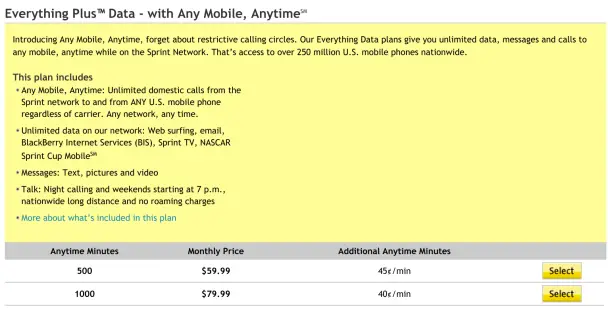 If you want to switch to Sprint, but you're not impressed by Sprint's new Unlimited My Way plans, there's still hope. After all, why would you want to limit yourself with lower bandwidth priority or 1Mbps video streaming, when you can have it all on one of the old Everything Data plans?
As it turns out, the old Everything Data are still available for new Sprint customers, but only in the Everything Plus Referral Program Shoppers Private Store. To get access, you'll have to follow these steps:
Navigate to delivery.sprint.com/m/p/nxt/epc/epclanding.asp
For the email address, type: [email protected]
For the CID, type: 383
Don't worry – you're not doing anything "illegal" here. Russ McQuire, an exec at Sprint, made his email address and CID public many years ago, so smart consumers like us could use it and grab an extra nice deal. In the beginning, this used to be the way to grab those old SERO plans (the ones with practically unlimited everything for only $30/month). Those plans are since gone, but the Everything Data plans remain in their place, and with an extra discount to boot.
Prices for the Everything Data plans in this private store are generally $10 cheaper than the corresponding plans  available to the general public, and they come with more anytime minutes, too:
Individual plans:
500 minutes for $59.99
1000 minutes for $79.99
Family plans:
1600 minutes for $109.99
3200 minutes for $149.99
Of course, these plans come with the unlimited any mobile minutes, nights and weekends that start at 7:00 p.m., and unlimited messaging and data on the Sprint network. The $10 premium data fee still applies, and since these plans are already discounted, no additional discounts apply.
The cheaper Everything Messaging plans are still available, as well, but you'll have to pick of the data plans if any of the lines on your account are a smartphone.
So what are you waiting for? These are actually decent plans at decent prices, and they'll save you some money over the newer plans that Sprint is trying to push on everyone. There's also no telling how long this back door will last, so if you're on the fence, now is the time to act.