Google Play tip: Prevent unwanted app shortcuts from appearing on your home screen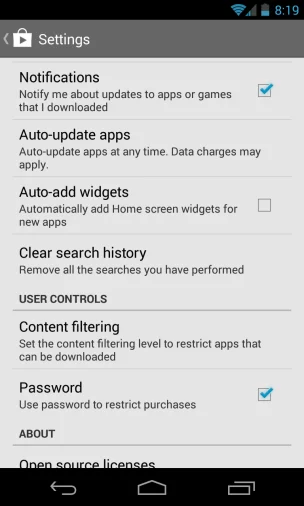 Have you noticed that whenever you download a new app from the Google Play Store, its corresponding icon appears on your home screen? Even more annoyingly, if you run out of room on one home screen, the icon will appear on the next … and so on, and so forth.
And while many people might not really mind, neat freaks like me – who like to keep everything organized in folders, and who only want specific icons on their home screens – might find this very annoying. (It's especially irritating when you're recovering from a wiped device, and dozens of your old apps start re-downloading automatically – and appearing on your home screen automatically, too.)
Luckily there's a setting in the Play Store that prevents this from happening. Just go to your Play Store settings, and uncheck the box next to Auto-add widgets.
The name is a little deceiving, since app icons aren't really widgets, but once you do this, you'll never have to worry about this annoying problem again – unless you happen to reset your device.