The HMDX Jam Plus is a portable wireless Bluetooth speaker with a rechargeable battery that delivers up to six hours of music by itself from the one very loud speaker it has. Or, when paired with another Jam Plus, it can take over a room with a stereophonic sound experience.
The Jam Plus builds on my all-time favorite portable speaker, the HMDX Jam, and gives it the physical separation needed to fill a room full of people with sound, or just listen to Dark Side of the Moon in proper stereo separation, if not the quadraphonic it was originally intended.
Why you might want the HMDX Jam Plus
The individual speakers are extremely loud for what they are, and they're super easy to pair. The original Jam was a masterpiece of speaker engineering, and I think these are the first new HMDX Jam products that actually sound as good or better than the originals.
It's great for taking music on the go – picnics, camping, abandoned mental hospital, etc. The Jam Plus also comes with a neat carrying case that looks vaguely like a jelly jar for your Jam.
Your music source can be up to about 25 feet away from the right base, and the left base can be at least 15 feet from the right base. As near as I could tell, signal went from the phone to the right base speaker, and then from right to left (which was 50 feet from me at that point).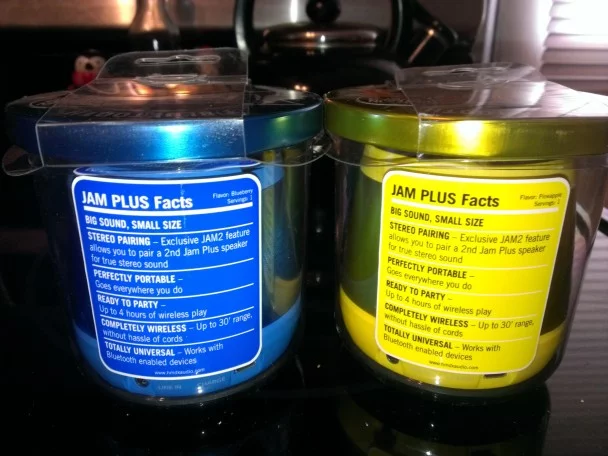 Why you might not…
Power
Although I love the idea of individually positional portable speakers, you run in to a few issues with them in real life: the first is charging. Each speaker needs to be charged separately, and the charger is supplied by you. They include a USB cable if you have a charger to handle that (most of us do), but there's no way to slap them into an outlet without equipment provided by you.
I understand that USB is becoming more universal, but the idea behind a portable speaker is you're going to take it somewhere where there's a lack of technology in place, so it would have been nice to see a pop-out charging prong like the Roam, rather than relying on a computer or outlet to USB adapter being in place.
There's also no way to daisy-chain the speakers on a charge, so if you've got one cable, it's charging the left, then the right, and it's charging only at whatever rate the adapter is capable of pushing.
Portability
One of these speakers is extremely portable. Two is a handful. They should really sell these in a two-pack with a carrying case that can handle both.
Usability
Don't get me wrong, these produce a great sound. With two of these you can bring the music to the party; however, as the DJ who is using your cell phone, you're limited to how far you can roam and who can be between you and the base unit. While this may not be much of an issue if you can place these high enough or far back enough, you're still limited to basically line of sight pairing with each person between either the phone and the base, or the base and the other speaker, becoming an impediment to the music.
I'll fess up here and mention I did not have a chance to do a Bluetooth test with a room packed full of people being forced to listen to Daft Punk's Get Lucky on constant repeat, but I was able to destroy the audio at 20+ feet by standing between the transmitter and the speakers.
Stereo
You know what – in a party situation it's just not particularly important. Multiple positioned mono speakers would generally do as well, especially since one of your speakers is probably going to be obscured by someone at any given time.
Overall
I love the sound these produce, and I love the general idea, but I feel they missed out on the charging options and lost portability points for failure to deliver with a package that could contain two speakers. The speakers are great and make great gifts, but I wonder about the usefulness of two of them.
Amazon has a good deal on two HMDX Jam Plus speakers plus a portable 2600mAh USB charger for $99.95 at the moment, which at the MSRP of 59.99 per speaker is a pretty decent deal, considering they throw in a charger. I didn't get the pack with the charger, but it seems like it also needs to be charged with equipment you provide, so they sort of missed out on that again.
If you just want one speaker, the Jam Plus is available from Amazon for $49.46; however, if you're only going to get one you might be better served just getting the original HMDX Jam for about $18 less. I can't tell a significant difference in audio quality.