Jabra STONE3 Bluetooth headset review
The Jabra STONE3 is a stylish slim profile Bluetooth headset that is short on flash and long on performance. NFC pairing allows for coupling of your headset and whatever device you're on with just a tap, and a lightweight portable recharging base that carries up to four complete headset charges keeps you talking.
Why you might want the Jabra STONE3
Style
The first thing about this that I noticed about the STONE3 is it looks significantly less like a blinking Bluetooth earbud contraption, and more like what I imagine a business earpiece would look like now. There's nothing in the way of moving parts to activate or dismiss calls, and you look significantly less like you're on a Bluetooth earbud with these than with anything else.
It's one of the few Bluetooth earbuds I think you could completely miss someone wearing. So if you're not interested in being "that guy with the earbuds in all day," chances are this is for you.
Charging
The STONE3 charges in just 20 minutes and can be recharged by connecting a micro-USB cable, placing it in the included base charger plugged into a wall, or simply by placing it in the pebble shaped charging stone while in your pocket.
The base unit contains a battery as well, and will store up to four complete charges of the device so you can take it with you.
Comfort
The STONE3 is pretty comfortable. I guess this depends on your ears, but once on it did fade from my awareness, which is what I like in a headset.
Features
Voice features all you to answer calls with your voice by saying "answer" or "ignore." Volume adjustments are available just by sliding your finger over the surface of the STONE3.
Why you might not want the Jabra STONE3
Battery life
The talk time on the STONE3 is only about two hours. For me, this is not an issue; however, I have friends who utilize Bluetooth earbuds exclusively to talk to relatives who go on for hours. Then again, a battery dying at two hours might be a selling point if that's the case.
Features
Unlike other Jabra offerings we've covered, the STONE3 doesn't allow you to control your music, and doesn't have an on-headset mute function. There are also very few indicators on the STONE3 as to what is going on at any given point with status indicators being on the charging base and requiring the unit be placed in the base to see what's up.
Fit
Pressing the STONE3 into your ear further can disconnect the call. This will probably happen to everyone at least once before you'll figure out what's going on.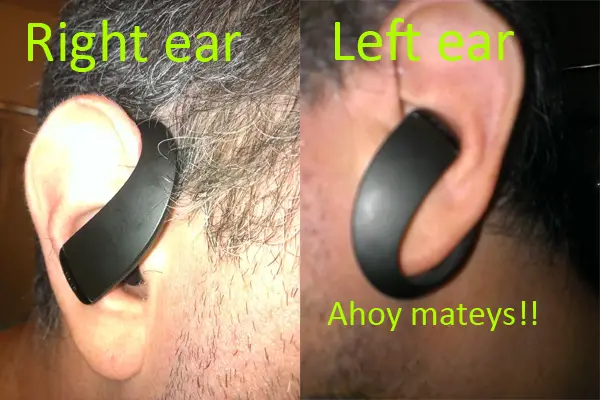 If you want to wear the STONE3 in your left ear, you sort of end up looking like a pirate as the device is not side-adjustable and the thing looks like a large hoop earring.
Jabra STONE3 specs
Two hour talk time
120 hour standby
Weighs seven grams
Bluetooth 3.0
NFC perimeter pairing
Dual-mic for Noise Blackout
Three sizes of ear gel included
In action
The device is comfortable, picks up audio well, and removes background noise. I felt a little let down with the lack of features, although controlling music and doing voice searches constantly isn't everyone's thing and I realize that.
I liked the feel, fit, and sound, but it's a little lighter in the feature set than I like. I really dislike the way it looks on my left ear, which is where I generally like to wear headsets. All in all I liked it as a device to transmit audio in an inconspicuous way to my right ear, but felt that it fell a bit short of being the earpiece I wanted it to be mainly due to the fit on the ear I wanted it on.
I left out a large part about the retail packaging. It's absurd. There are instructions on the package about how to properly remove it from the package, and this involves three twist-unlocking pieces and a couple of snaps. It's not a bad thing, but it's just over the top epic packaging. This is not quite what I wanted in a Bluetooth device, but it does sound and work very well. I feel the price point is on the high side as well.
One last thing: the NFC pairing only seems to be doable with the base unit attached, although you can hold the power button when turning the unit on to force Bluetooth pairing again.
The Jabra STONE3 is available from Amazon for $106.62.