The best deal for the Moto X might very well be through Republic Wireless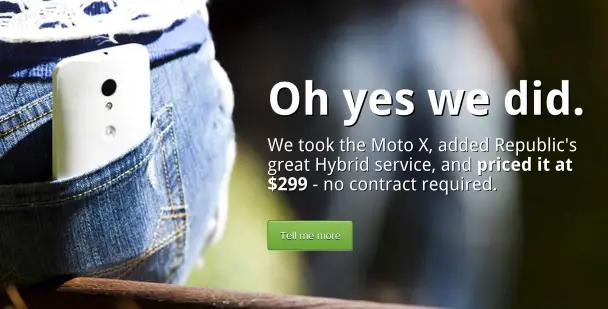 Remember when everyone was hoping that the Moto X would be cheap – like Nexus 4 cheap – and only cost a few hundred bucks off contract? And then remember how disappointed we all were when we found out that it would cost $200 on contract, and $600 off contract?
Get ready to be excited once more, as Republic Wireless has just announced that it will offer the Moto X without any contracts for only $299 plus tax, starting in November. Granted, the device will be locked to Republic Wireless, which is a Sprint MVNO, but as you might remember, Republic Wireless adds an interesting twist to wireless service.
Rather than restricting you to just the Sprint network, Republic Wireless has crafted a hybrid cellular/WiFi calling and texting experience. It's not unlike T-Mobile's WiFi calling feature, except Republic Wireless phones are programmed to prefer WiFi calling and texting whenever possible. Because Republic Wireless tries to get you to use WiFi for most of your communications, it's able to offer insanely low monthly pricing.
When the Moto X is released, Republic will offer four new monthly options:
$5/month: unlimited talk, text, and data on WiFi only.
$10/month: unlimited talk and text on WiFi and cellular; unlimited data on WiFi only.
$25/month: unlimited talk, text, and data on WiFi and cellular (cellular restricted to 3G)
$40/month: unlimited talk, text, and data on WiFi and cellular (LTE included)
Apparently the old $19/month unlimited everything plan will still be available, but only on Republic Wireless's older Motorola device.
According to Republic Wireless, it is able to offer the Moto X at such a reduced price because it's picking up most of the subsidy for you:
How did we do it? The phone is $299 because we are footing the bill. Period. This is NOT a $299 phone. Take a quick look around the web and look at "no contract" pricing for the Moto X.

In the industry this is typically known as a subsidy, but we've added a twist. We are bringing down the cost without holding you to a contract. We're doing this because we have trust in our members…and we have confidence in our product and service. Contracts are inherently built on a lack of trust…and a lack of confidence in your ability to bring your A game every.single.day. We believe in a better way…the way things should be.
Some simple math will reveal that the phone will only cost $1259 over two years with the highest available monthly plan. That's actually really cheap, and something I don't think any other carrier can offer right now. In other words, this makes Republic Wireless the best deal for anyone wanting a Moto X – if you're willing to deal with slightly slower software updates (Republic Wireless has to include its proprietary WiFi calling software) and Sprint's congested data network.
[
Republic Wireless
]