Win a Seidio LEDGER case + VITREO screen guard for the HTC One
It's the third day of fall in the northern hemisphere, and we've got a Seidio giveaway for some lucky Pocketables readers to protect your HTC One from the elements – perhaps even a fall; who knows?
First up for grabs today is a VITREO tempered glass screen protector for your HTC One, which functions to prevent scratches like most screen protectors do, but also has the additional benefit of being tempered glass so there's no impediment to swiping your fingers across the screen like you get with plastic screen protectors.
Also, going by the installation video on the VITREO product page, installation is a little less painful than your average screen protector.
The second part of the prize is a Seidio LEDGER case. The LEDGER is a thin polyurethane flip case with an inside pocket for carrying a credit card or an ID. It also raises your camera up slightly from surfaces to protect the lens.
The combined the retail value of this combo is about $75, and Seidio is giving away this combo to five lucky Pocketables readers.
We'll publish a review of each sometime next week.
What you need to do for a chance to win
In the comments section below, you will need to:
Tell us which HTC One you have (silver, red, polkadot, etc.).
Tell us what carrier it's on.
Tell us your experiences with it so far (best, worst).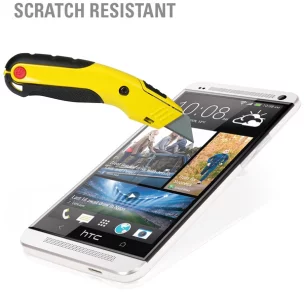 You'll need to have correct contact information in the contact fields (not the comment body), so we can actually contact you.
Giveaway entries end midnight EST on Thursday, October 10. Winners will be announced on Pocketables Friday, October 11.
You'll get bonus points for creativity and an interesting entry, so have fun with it!