Android tip: Turn off WiFi optimization if you're having trouble using certain apps over WiFi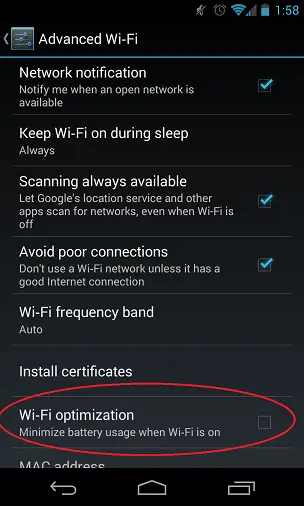 This might seem like contradictory advice, but if you're having trouble using certain apps over WiFi on your Android device, it might make sense to turn off WiFi optimization in your phone's settings.
In particular, I've noticed issues with sending texts through MightyText and with using Android Device Manager – both of these apps require a constant data connection, so that remote servers can connect to the device in order to complete certain tasks like sending text messages or determining the device's location.
The problem with WiFi optimization is that it doesn't actually optimize your WiFi connection; instead, it optimizes battery usage. This means that, when enabled, your device won't actually maintain an active data connection all of the time. Rather, it will periodically check into Google's servers to see if anything new has happened. This makes it difficult to use apps like MightText or Android Device Manager while connected to WiFi.
To solve this problem, simply navigate to Settings > Wi-Fi > Advanced, and uncheck Wi-Fi optimization. To be honest, I have noticed a very slight hit to my battery life on my LG Nexus 4, but the benefits far outweigh the several battery percentage points that I lose. Try it out yourself, and see what you think!