Dirty Unicorns Android 4.3 EVO 4G LTE ROM released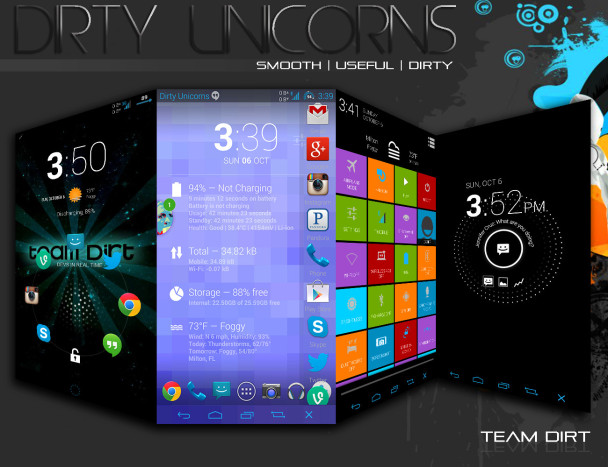 Dirty Unicorns is an AOSP-based Android 4.3 ROM for various devices by Team D.I.R.T. (Developers In Real Time.) The HTC EVO 4G LTE version has just been updated to support the newest version of Google's OS and, as of yesterday, went live for download.
In attempting to describe what Dirty Unicorns is like, it's very hard to not just say: "Hey, like that feature from ROM X? Oh yeah, it's in Dirty Unicorns. Like that thing from ROM Y? Yeah it's there too." I actually am at a loss at the moment to find a significant feature missing from it that's in another ROM, and plenty of things here that I can't find in others.
It has the BAMF theme engine, Ribbons, CyanogenMod profiles, apps, and Powerwidget, portions of SlimROM, features from ParanoidAndroid including Halo, multi-user support, a wakelock blocker, Moto X notifications, and a features list that goes on for two pages (depending on your monitor resolution).
The current bug list is that it cannot take screenshots, so if that's big to you (such as if you're perhaps wanting to write a review of a ROM and include a screen shot of some of the pages of settings), this may not be the ROM for you. Everything else should work, although drop by the support thread if there are any issues.
If you're interested in giving it a whirl, grab a copy of the Android 4.3 Gapps, head on over to the Team D.I.R.T. source link below, make a nandroid backup of your current ROM, and install away.
As a word of caution, I do not know if this has an S-ON friendly installer, but judging by the previous version of the ROM it's probably safe to assume it does not play nice with kernel changes, so be ready to do some S-ON kernel flashing if you're still locked.