HTTPS Everywhere makes your Google Chrome browsing session more secure, whenever possible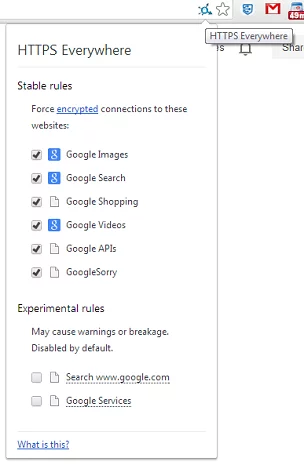 In an era when internet security is on everyone's mind, WiFi sniffing is on the rise, and personal information gets stolen everyday, it makes sense to take steps to protect oneself – especially when those steps involve a "set it and forget it" solution, and that's exactly what HTTPS Everywhere is.
This Chrome extension is actually a port of the popular Firefox extension of the same name, created by the Electronic Frontier Foundation and the Tor Project. After downloading and installing it, it will automatically switch all sites you visit from insecure "http" to encrypted "https" – this is the same type of encryption that banks use, and can even protect you against certain forms of surveillance and account hijacking. According to the Chrome extension, it also protects against some forms of censorship.
Using it really is as simple as downloading it from the Chrome store. Going forward, if a site supports https, this extension will force it to use it. If a site has both secure and insecure elements on the same page, the exension will automatically hide the insecure portions. A shield button will also appear in the omnibar, which you can click to load the insecure elements – with the understanding that this will potentially reduce your privacy and security.
I've installed it myself and haven't noticed any negative side effects yet. However, the extension won't do anything for sites that don't support https, so keep that in mind. Also, if certain sites do look weird, the extension allows you to disable it on a site-by-site basis. Simply click the button the appears in the omnibar for options.
Download: Chrome Web Store