Quick tip: How to forward your iCloud email to Gmail
When I started at Pocketables, I was a heavy Apple user: a MacBook Pro, an iPhone, and various Apple accessories rounded out my desktop, and the software that ran on each was mostly made by Apple. As I the years went on, Android started to get better while iOS got worse, and Windows 7 was far better than OS X could ever hope to be. I still bought a third-generation iPad when that came out, and I still used a lot of Apple services, but I was starting to break free from that walled garden and move on to greener – and much more open – pastures.
I've moved on from all of Apple's services but one – and that is iCloud email. Unfortunately, it's not so easy to find all of the services you used your iCloud address for and tell them that you're no longer using that address. But you're in luck: just like Gmail, fowarding iCloud email is easy, and this guide tells you how to do it.
Forwarding iCloud email is straightforward, once you find where you need to go, that is. When you log in to iCloud's website, click the Mail icon. Once you're there, locate the Settings icon in the Mail app (as signified by the little gear) and click on it. After that, all you need to do is click on the Rules… selection of the context menu that pops up.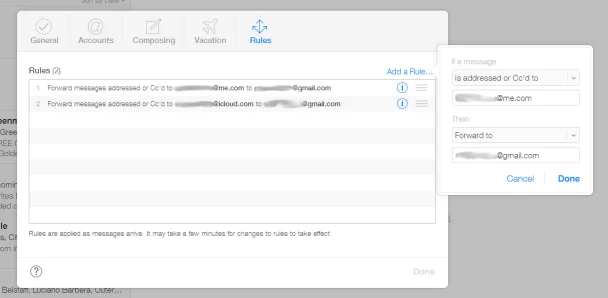 From there, all you need to do is set your first rule to forward mail that's addressed from your @me.com address. Simply click Add a Rule… and then select is addressed or CC'd to from the first dropdown menu. Enter your @me.com address in the first text field. After that, head to the second dropdown menu and select forward to, and enter your Gmail address in the text field that appears.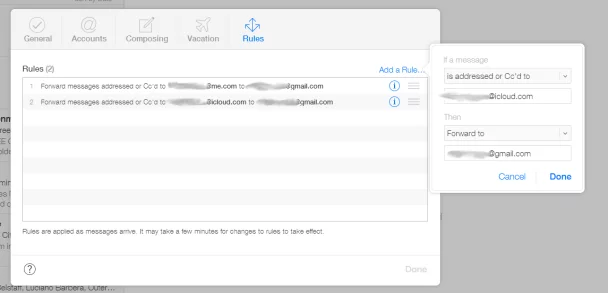 You aren't done yet, though: for some weird reason, Apple decided to change the @me.com domain to @icloud.com at some point during iCloud's lifetime, so you also have an address with that suffix. Thankfully, iCloud rules aren't only limited to one, and you can also set up a rule for your second Apple email address. Click Add a Rule…, select is addressed or CC'd to, and enter your @icloud.com address (which is the same as your @me.com address, just with the iCloud suffix).
Voila! You're done, and now you can use the Gmail app for both your Gmail and iCloud emails. This eliminates the need for Android's Email app, and allows you to consolidate your email into one, easy-to-find mailbox that you can sort the way you want. Forwarding iCloud email is more difficult than other services since Apple doesn't include an option specifically for forwarding, but hopefully this guide has helped. Let us know in the comments!