Seidio VITREO Tempered Glass Screen Guard for the HTC One review
The Seidio VITREO is a tempered glass screen protector for your HTC One that, unlike most plastic screen guards, feels like there's nothing there while giving your screen some impact and scratch protection. As a reminder, we're still running a contest for five lucky winners to win a VITREO Screen Guard and a LEDGER flip case, and you still have time to enter.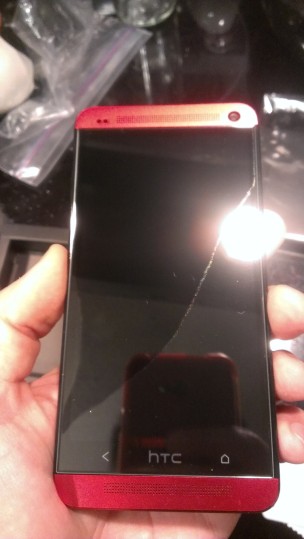 Also unlike most plastic screen protectors, if you put the VITREO on incorrectly, you can still salvage the installation by pulling the screen guard off and re-positioning it. There are no bubbles on a standard installation as the guard can't warp to allow them, and no random cat hairs mysteriously materialize to ruin the seal.
While there may be some air, it actually burps out with the included card with no issue. In the picture to the right, you can see the air under the bottom right corner, but roughly ten seconds later most of that was gone by itself.
Seidio VITREO vs Paul
Installation took about two minutes, mostly due to accidentally putting it too low on my first attempt. The second was successful and required no leaps to get it done. Considering how many plastic screen guards I've botched during installation, this was a breeze.
After it was installed, I decided to throw some damage at it and discovered that neither keys, knives, nor pointy screwdrivers made a scratch under normal circumstances. I would have loved to take a hammer to it, but it's the wife's HTC One, not mine, and I don't think her insurance covers damage by mad bloggers.
Seidio VITREO and cases
On the LEDGER flip case it worked like a charm. I'll have a review of the flip case later, but any open front case is going to work perfectly with the VITREO. The manufacturer page states it will work well with the ACTIVE and LEDGER cases.
Where you run into problems is when you've got a super-snug third party case, such as my wife's snap-on hard skin Hello Kitty case. The case barely fits back on due to the slight additional space required of a tempered glass protector. At the point when the corners are pressed, air bubbles form. I believe the glass is actually being pinched in. Whatever the case, neither the HK case nor the VITREO want to work nicely together and I think that will probably be the case with most form-fitting snap-on cases.
In the pictures below (click to enlarge), you can see the case no longer closes properly, and in the corners of the One's screen there are bubbles under the VITREO protector. They come out when you remove the Hello Kitty case, though.
In short, if you get this protector, you're going to be somewhat limited in cases you can use.
Value
The VITREO is priced at about $40, which makes it the most expensive screen guard I've ever played with. Depending on how valuable the potential protection of your phone's screen from shattering is, and what case options you're willing to go with, will determine whether it's worth it to you. I don't put phones in with keys, nor do I tie them to strings and drag them behind a bus to get realistic battle damage ala Napoleon Dynamite.
For me, it's not worth $40. Then again, I'm not a person who breaks and scratches screens. I have friends for whom, even in this price range, this would be a wise investment, as they've paid for the same phone over and over and over again.
You can get the Seidio VITREO from Seidio Online or Amazon for $39.95.