("We still have a lot to cover") What to expect at Apple's October 22 event
Tomorrow is Apple's October 22 event, where the Cupertino, California-based company is expected to release a plethora of new products. The invitation to the invite does say, "We still have a lot to cover," after all.
In typical Apple fashion, only the company knows what's going to be announced tomorrow – but luckily for you, we have been getting some pretty big hints throughout the year as to what tomorrow will hold for technology fans. Read on to find out our predictions for tomorrow's big Apple event: what you should expect, and what potential Apple products it'll be keeping for itself.
iPad 5 and iPad mini 2
If there's only going to be one updated line of Apple products tomorrow, it'll be the iPads. Both the iPad 4 and iPad mini are nearing their one-year birthdays (November 2nd, for those keeping track) and are in dire need of updated hardware.
In addition to the new, familiar shells you see above, the new iPads will both see upgraded internals. The mini will be upgraded to at least an A6 processor from the A5, while the larger iPad will probably be given Apple's new 64-bit A7 chip. Expect to see the mini's internal storage stay at the same 16GB, 32GB, and 64GB varieties; while the larger iPad may start out at 32GB and go up from there. Unlike other bloggers, I would be surprised to see a lack of a TouchID sensor in the iPads. If I miss anything from my iPhone 5s, it was the ingenious fingerprint scanner that alleviated the pains of entering a passcode every time I used my phone.
The only other thing Apple has left us guessing about here is whether more color options will be added. The gold casings that you see in the picture above are from a site that doesn't have a lengthy or accurate track record, although it would make a lot of sense that a gold edition iPad 5 and iPad mini will be released: gold is the most popular and sought-after color for the recently-released iPhone 5s. I can't help but think that the iPad mini will see even more color options, though, like the ones found on the colorful iPod touch line.
Regardless of what designs are shown tomorrow, mark my words: tomorrow is a day for new iPads.
iPad Pro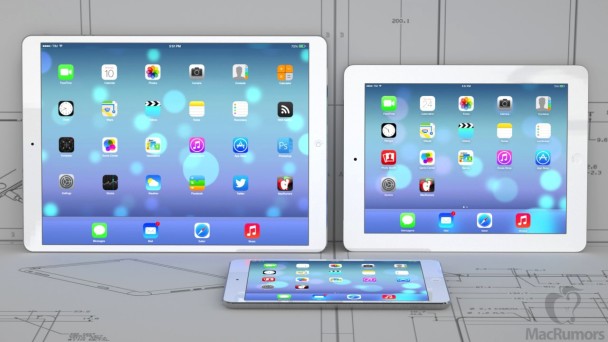 The rumor of a larger, more powerful iPad has been circulating as long as people have been talking about the iPad mini. Presumably, an "iPad Pro" would feature a 12.9-inch display, a possible keyboard dock (which could be what the invite tagline is referencing), and a number of other professional-centric features that would position it as a device for people who want to work and not play.
Since only renderings and faint whispers have suggested that an iPad Pro will see the light of day tomorrow, I'm going to say that it just won't. Although Apple has a relatively good track records of keeping secrets, they still have leaks from their supply chains – and since we've seen no real pictures of a bigger iPad, this rumor is just that for this year: a rumor.
New iPods
The current iPod touch has already surpassed its first birthday and it's also certainly ready for an update. As Apple's flagship mobile gaming device, expect to see the iPod touch also upgraded to the 64-bit A7 processor. The M7 co-processor seems like a guaranteed addition, too: the iPod touch is popular as a fitness device, and the M7 is a killer addition to any athlete's arsenal.
I don't expect the design to change. As one of Apple's cheapest products, the iPod touch has kept its new designs for multiple generations and aren't always kept as up-to-date as iPhones and iPads. You also shouldn't expect it to have a TouchID sensor, either – hat would drastically increase the price and take away the biggest feature of the iPod touch, which is definitely its price.
Haswell MacBook Pros
Apple updated its wildly popular MacBook Air line with Intel's new Haswell processors this summer, but the MacBook Pro hasn't seen such love yet. If there's truly "a lot to cover," Apple would be wise to make an announcement about Haswell MacBook Pros. Especially since…
OS X Mavericks
OS X Mavericks is being released tomorrow. We'll likely see a lengthy demonstration of it on stage by SVP of Software Engineering Craig Federighi, and I'd be willing to bet that tomorrow will be the release day for the operating system, too. Like previous download-only versions of OS X, Mavericks will likely cost just $19.99 on the Mac App Store for an unlimited license copy – meaning you can install the operating system on every Mac that's tied to your Apple ID.
Apple's October 22 event is gonna be big – and we'll be here to give you all the details
Apple has been teasing us for months with all of those product leaks and tomorrow, they'll all finally come to fruition. Whether or not they'll address any of the issues that have been putting Apple on a downward spiral is another story, but at least the new products will be beautiful to look at. Is there anything you're excited to see tomorrow? Is there anything that isn't in this list that you think Apple will definitely announce or release tomorrow? Let us know in the comments!